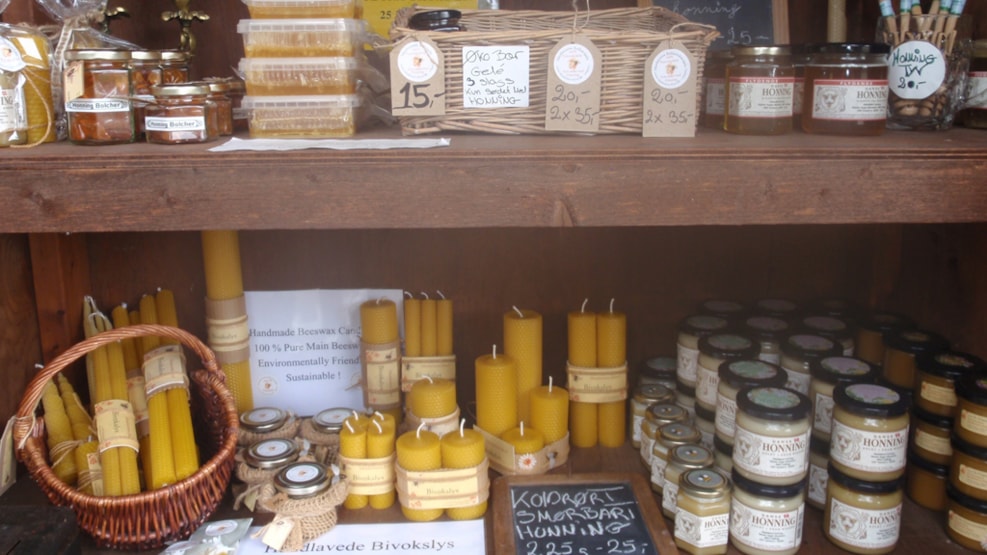 Idaslettens Beekeeping
Welcome to Idaslettens Beekeeping .

We are a family owned company which in five years has driven beekeeping as a profession. In addition to pollination tasks for fruit growers and seed producers , we gain several different kinds of quality honeys over the season, depending on what the bees draw on. We sell to all who want to taste a local quality product from Lolland.

We sell honey cold touched or liquid and tapped on the glass . If large quantities are desired in buckets, please contact us for the supply agreement and quantity.

In addition to honey , we sell hand-rolled beeswax candles made ​​from 100% pure beeswax. Many different sizes of cake light, long and narrow to the fine candlestick and big candles for decorations or just mood lighting.

Beeswax candles are environmentally friendly and hypoallergenic, especially because they are a product of nature , but also because they burn at a lower temperature than regular candles which prevents thjem from sooting . It has been shown that people with allergies who respond to ordinary candles ( the smoke from them) do not get reactions to bees wax candles.

The bees wax comes from Danish bee green wax pool which is guaranteed to be free of pesticide residues and dirt. The plates we use to roll the candles is usually used for the boards we give bees as building instructions in the hives . In our roadside stall on Tokkerupvej 4 , 4892 Kettinge we sell our products from 1st April to late September , depending on the weather. Customers are welcome to stop by and shop with us every day from 8 am to 6 pm when the booth is open . We usually have more items in the shop, such as honey sweets.