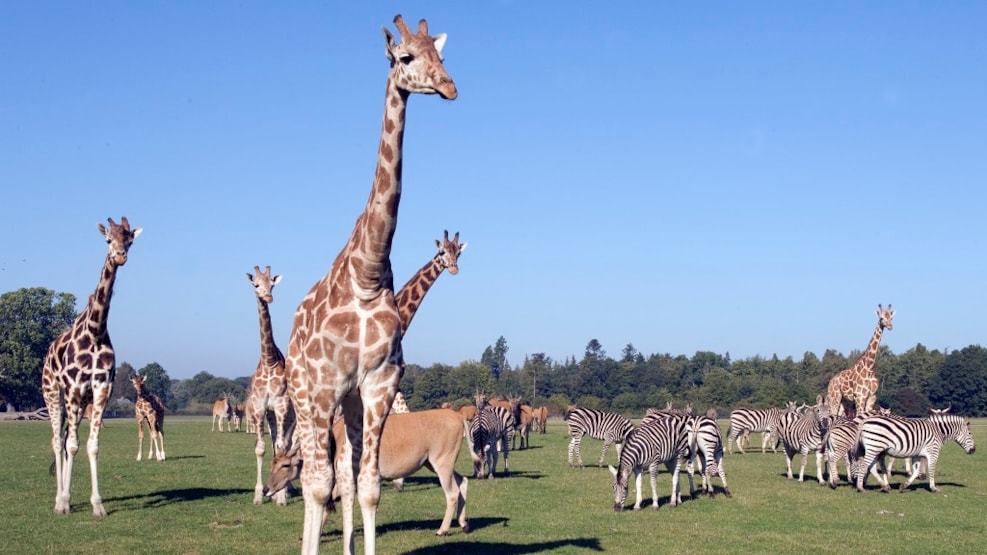 Knuthenborg Safaripark
Get close to the rare Siberian tigers, go on safari among the giraffes and wildebeest on the savannah, say hello to the world's largest animal, allow yourself to be astonished by the giants of past in the dinosaur forest, let loose on Denmark's biggest nature playground and meet the former circus elephants in what is probably Europe's largest elephant enclosure.
A day in Knuthenborg Safari Park is a day filled with fun and excitement for all ages, and there is much to experience. And as something new, you can enjoy delicious local and sustainable luxury meals with views of Scandinavia's largest savannah. Hard to do it all in one day? So stay here for a night you will never forget. Stay in our luxury safari tents on the savannah in the Monkey Forest
overlooking the fascinating lives of the animals.
See the circus elephants' new home
See the former circus elephants Ramboline, Lara, Djungla and Jenny splash in the water, take mud baths and socialise with each other just as they would on the African savannah. During the summer of 2020 they'll move into the huge new state-of-theart elephant facility, which is larger than most zoos. 
Meet the world's largest dinosaur in the Dinosaur Forest
You walk through the woods full of tall, slender trees – and suddenly you find yourself face to face with the largest animal that ever lived: The 47-metre-long dinosaur Patagotitan Mayorum. In the Dinosaur Forest you will learn about dinosaur life as you let yourself be carried away by the ancient giants, but beware, the T-Rex is lurking out there somewhere!
Limpopoland Amusement Paradise
Entertainment is guaranteed here! Enjoy the thrill of the African volcano, Kilimanjaro, feel the wind in your hair on the Kampala. Express roller coaster, or feel a rush on Denmark's wildest, wettest and steepest water slide, Congo Splash. Trampoline, rafts, zipline, climbing towers and a maze – Denmark's largest natural playground is packed full of wild activities, and the whole family is guaranteed a super fun day.
The animals on the savannah
A herd of zebras grazes on the savannah. One lifts its head and follows you with its eyes as you drive past. Knuthenborg's savannah has been expanded so that it is now the largest in Scandinavia, and you can see all the animals straight through the car window. Eat sustainably overlooking the savannah. On the edge of Scandinavia's largest savannah is the unique Flint House, where there is now a restaurant. Here you can enjoy sustainable, luxury foods made from high-quality, locally sourced ingredients while you follow the animals' movements in true giraffe style. It doesn't get closer than this.
Sleep on the savannah
Get the perfect safari atmosphere: Invite your family to stay overnight in luxury tents overlooking the savannah. And try the new tents, where you can stay overnight with views of the Monkey Forest. It will be the wildest experience, and one that you won't find anywhere else: Following the fascinating life of the baboons, up close and around the clock. It's sure to be a little crazy and a lot of fun. The entertainment will be fantastic! Book your tent on www.knuthenborg.dk/en