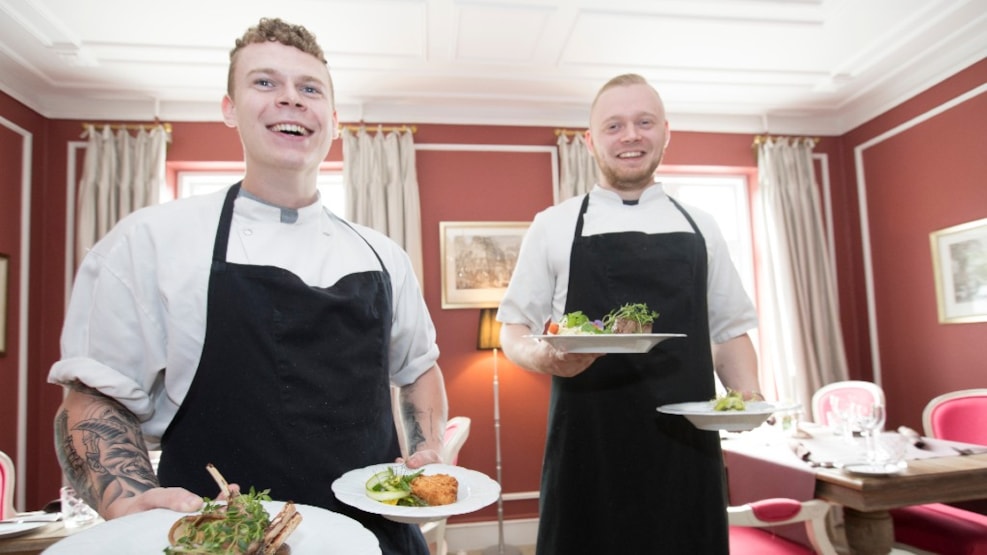 Restaurant MejeriGaarden
Eat a delicious dinner or a nice lunch in the old glorious living rooms at MejeriGaarden. Here you will be pampered with great gastronomy and delicious wines. Or take a nice break on the tour and enjoy a coffee with cake or a glass of cool wine. Everything can be enjoyed both inside and out - but always in beautiful surroundings.
The food is classic dishes with a modern twist, and of course the focus is on the good ingredients from Lolland and Falster. Enjoy a glass of cool wine or a good drink on the garden terrace. Here you will have views of fields, water and the beautiful and very old blood bush.

Also try Mejerigaarden's famous Sunday lunch. It is an "old fashioned" lunch table, served every Sunday between 12:00 - 16:00.

Inspiration is available from the menu, where you can also book a seat.

There are 3 living rooms that act as a restaurant. For smaller companies, it offers a private living room where the company can enjoy itself in peace and quiet. In addition, various events, meetings, courses and the like can be held. Further agreement and information can be obtained by contacting Mejerigaarden on +45 7023 7040 or info@mejerigaarden.com.
MejeriGaarden is a proud old proprietary farm from the mid-1800s, and in 58 was run as a dairy by Axel W. Danielsen. He was a personality with a sense of quality and lifestyle. Every day he had a bottle of champagne cooled in the farm's street, then he knew it had just the right temperature when he drank it in the evening.