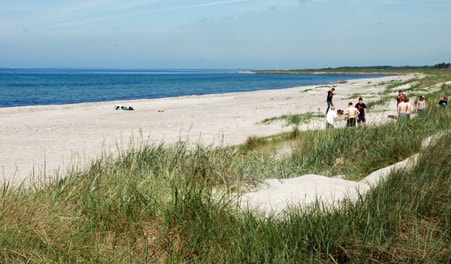 Rødbyhavn Beach
The beach at Rødbyhavn is a sandy family beach with dunes and dike near the harbour town of Rødbyhavn. The restaurant "Langelinie" is located between the beach and the marina. From the beach you have a view of the ferry port, where the big Scandlines ferries sail to Germany – an impressive sight.
There are tables / benches, restaurant, toilets and parking at the beach. A kiosk is available at the restaurant.
The dike protects against flooding of the reclaimed area. There are meadows and small lakes where many resting and breeding birds can be seen on the landside of the dike.
The dikes along the south coast were built after the great storm-flood in 1872, and is today maintained by the Lollandske Dike Association.
The coasts of Lolland are suitable for pursuit of outdoor interests. The piers at Rødbyhavn present especially good opportunities to catch flatfish. Sea trout and, in May, garfish, can be caught by coastal angling. Remember to purchase a fishing license when fishing in Denmark. Fishing licenses can be purchased at post offices or tourist bureaus.
Good surf, fair winds and ideal sandbanks are found all along the south coast of Lolland - these provide excellent conditions for kite surfing, wave and wind surfing.
Using the bicycle path (nr. 38) "Østersøstien" (Baltic Sea Route) it is possible to cycle along the dike all the way from Rødbyhavn eastwards to "Brunddragerne" or you can continue in western direction on the bike path along the fjord into the centre of Nakskov.