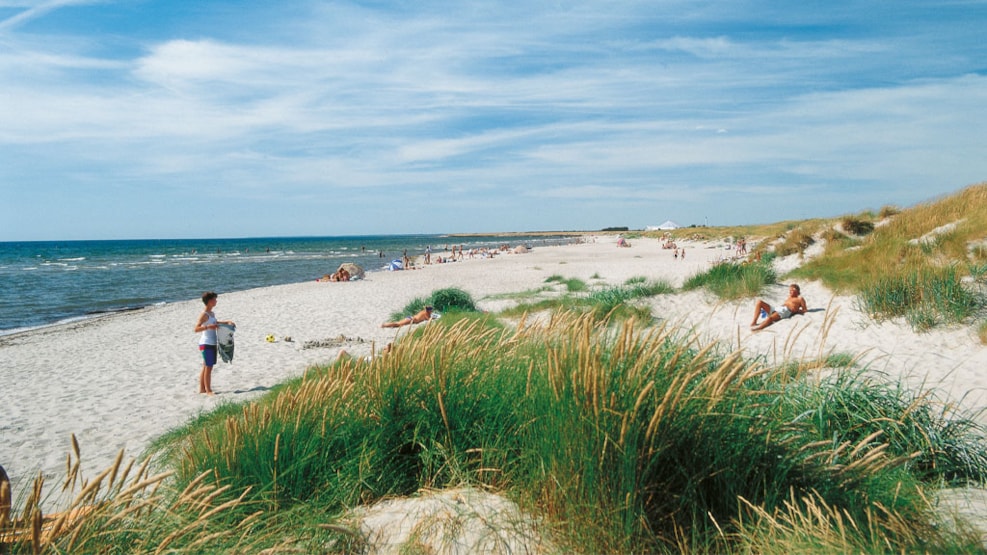 The Beach at Lalandia Rødby
The beach outside Lalandia Holiday Centre is a lovely sandy beach with a bathing jetty and great view of the Baltic Sea. Lalandia Holiday Centre offers many activities including shopping facilities, restaurants, crazy golf, a children activity house, cinema and much more.
There is a toilet and car park by the beach and access to steps leading down to the beach.  
The beach is a sandy beach with dunes and a dike, which protects against flooding of the inland areas.
The dikes along the south coast were built after the great storm-flood in 1872, and is today maintained by the Lolland Dike Association.
On the landside of the dike are meadows and small lakes where many resting and breeding birds can be seen.
The coasts of Lolland are suitable for the pursuit of outdoor interests.  As an angler you can fish from the coast, bridge or pier. Sea trout and, in May, garfish, can be caught from the coast. Remember to purchase a fishing license when fishing in Denmark. Fishing licenses can be purchased via the internet or in Tourist Offices.
Good surf, fair winds and ideal sandbanks are found all along the south coast of Lolland - they provide excellent conditions for kite surfing, wave and wind surfing.
Following the bicycle path no. 8, "Østersøstien" / The Baltic Sea Route, it is possible to cycle along the dike to the east all the way to Brunddragerne by Hyllekrog or  to the west along "Østersøruten" where you continue on the bike path all the way along the fjord into the centre of Nakskov.
Experience this tour with the free smartphone app "Naturlandet". It will guide you with GPS, pictures, stories and information. Find the tour under the category "Coastal areas and islands -Bathing Beaches". Scan the code and download the app - or get it in App Store or Google Play.