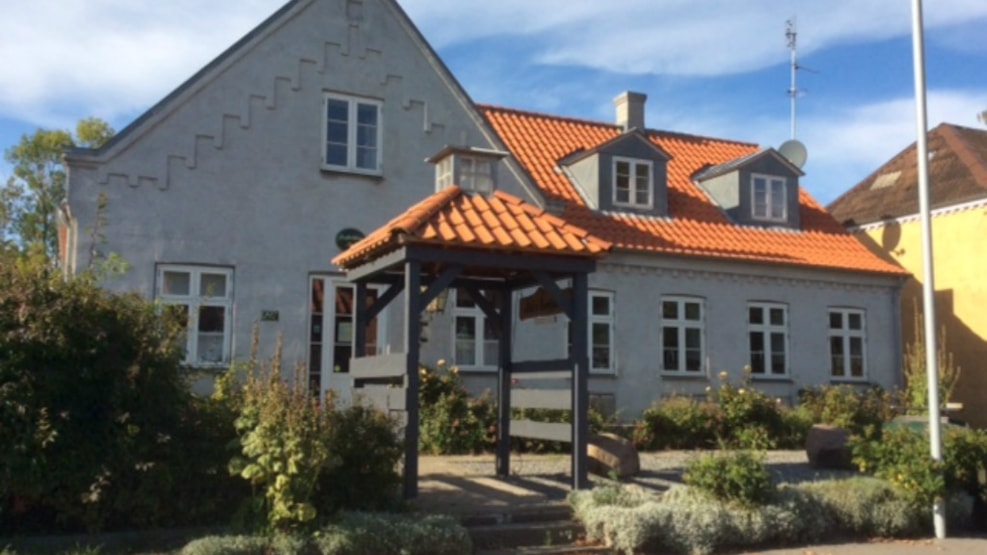 Bed & Breakfast Postholderens Sted
Spacious, well-appointed apartments on the 1st floor - located in a scenic area - view of forest and water (Guldborgsund).

The apartments have a gallery with the possibility of outdoor rest.
Each apartment has a minimum of 6 beds.

The apartments can be used both as an opportunity, partly separate rooms. It is possible for household yourself, and it is possible to eat on the ground floor, where there are restaurant and cafe.
The apartments can be used as accommodation for the organization of companies, especially family-meetings.

The restaurant uses mostly fresh products from the area, cook from scratch with "distinction of" that taste often associated with "time to boil and cook." It serves like fresh fish caught by local fishermen.
Looking for green accommodation, we have built two shelters where this can happen. There is also the possibility of accommodation in nearby gardenhouse and keel boat in the harbour.

Postholderens Sted arrange periodic workshops, the opportunity to visit the sheepfold. Ideal opportunity for angling. There is an outdoor kitchen in the summertime.

In fruit season, you can pick apples and pears in nearby organic orchard, and there may be participation in juicing, jams etc. We have furnished a small store, where sales of farm products and crafts, a little old and cozy things / furniture.
Bicycle rental and rental of rowing boat and the opportunity to book the hostel walks in the woods and countryside.
Planning for a relaxed present mood, which regularly is music in the courtyard when the weather allows, like organizing celebrations often accompanied by happy tones from various instruments, piano, accordion, mandolin and guitar.
Diner with kitchen which rests on the foundation: Good, fresh ingredients (often organic) local products, fish, meat and vegetarian dishes, homemade bread and cakes, freshly ground coffee - blue Java - organic fruit juices and homemade jams. The concept rests on the presence and time for the food. Preparing and eating should be a good experience and preferably with high health content.
We cook to order (food waste is avoided), we organize cozy parties and gatherings. When the weather is good, we are in the courtyard. There is often music. When the kitchen is open without reservations, the flag will always be hosted out to Guldborgvejen.
We may sometimes make outdoor food.
Orders for food "out" and / or we meet up, where you live and cook the food to your party.
The tables always cozy covered and serving have time to talk with the guests.
The rooms are modernized and historically decorated. Wish and Objectives: To give you a pleasant experience that can be remembered.
VisitLolland-Falster © 2023