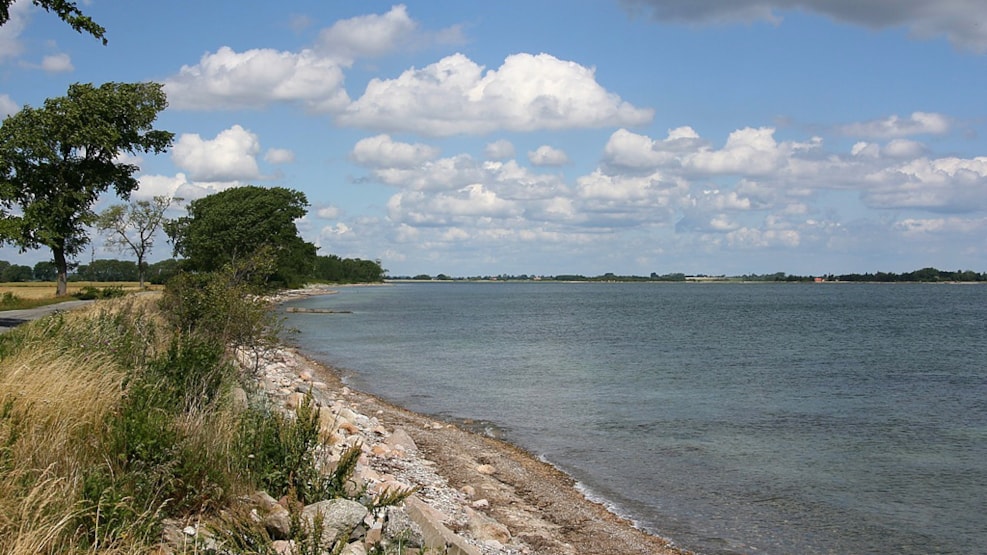 Canoe/Kayak Trip: Around Falster - Stage 2, approx. 26 km
Did you know, that you can see this route and many other nature experiences in the app "Naturlandet". The app can be downloaded in App Store or Google Play. All information is accessible in English, Danish and German – the app is FOR FREE.
STAGE 2: VÅLSE VIG – STUBBEKØBING
Parkering/startsted · Parken/Startpunkt · Parking/starting point
Vålse Vig, Dæmningsvej, 4840 Nørre Alslev
Special conditions/experiences:
Be aware of strong currents in Grønsund and ships and ferries traffic in Stubbekøbing.
Tour description/experiences:
Vålse Vig is approx 3.9 km wide and 3 km deep, so stay along the coast in order not to get too far from shore. Orehoved forest is passed on the inside of the islet Dyrefod. At Orehoved harbour we reenter shallow water with large stones. Here you can see the two bridges; The Storstrøm Bridge and a little further away the Farø Bridge. The Storstrøm Bridge is passed through the bridge span, which is closest to Falster. There may be danger of falling concrete, if you choose to go further out. By Gåbense and just before the pier there is a fine sandy beach. The Farø Bridge is passed under the main bridge between Farø and Falster and around the point you find Sortsø with a small harbour with a nature campsite, shelter and fish smokehouse and sales. After Sortsø Gab the waters change its name from Storstrømmen to Grønsund. Stubbekøbing is a charming old market town with campsite and beach. Here you will find the largest Motorcycle and Radio Museum of Northern Europe with its approx 150 motorcycles from around the world, and Stubbekøbing Local Museum. There is a ferry service to Bogø during the summer with evening boat trips on Wednesdays throughout the summer. Contact Stubbekøbing Rowing Club - tel.: +45 54 44 19 28.
VisitLolland-Falster © 2023