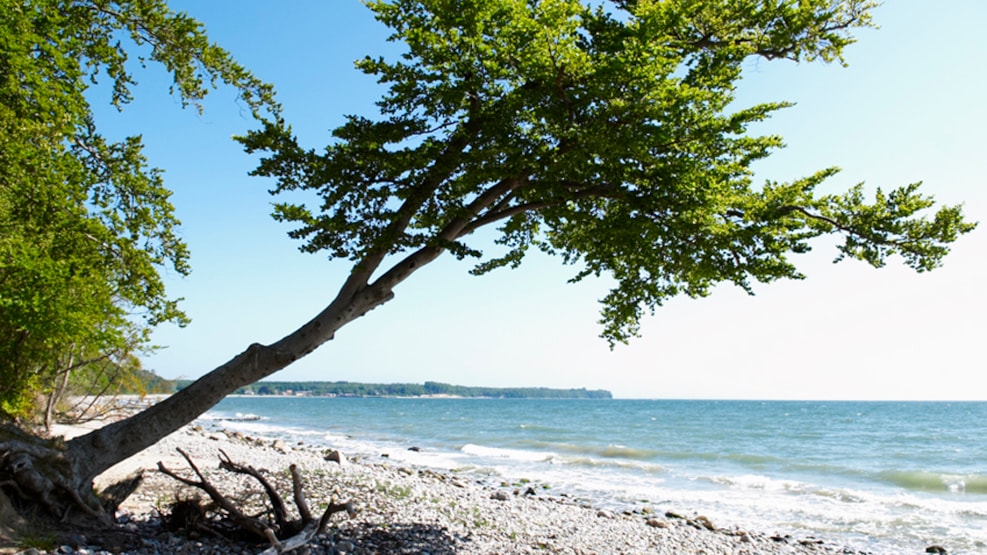 Canoe/Kayak Trip: Around Falster - Stage 3, approx. 20 km
Did you know, that you can see this route and many other nature experiences in the app "Naturlandet". The app can be downloaded in App Store or Google Play. All information is accessible in English, Danish and German – the app is FOR FREE.
STAGE 3: STUBBEKØBING – HESNÆS – SADELMAGERRENDEN
Starting point:
Stubbekøbing Rowing Club Vestergade 32 C 4850 Stubbekøbing.
Special conditions:
Be aware of strong currents in Grønsund and take care of ships and ferries in Stubbekøbing Harbour.
Facilities:
Primitive camp site, no toilet. Must be reserved through "Det Classenske Fideicommis", tel.: +45 5444 7029.
Tour description/experiences:
From Stubbekøbing you pass the marina and the holiday house area of Ore Beach. To the North you can see the causeway to Møn. The old ferry crossing place over Grønsund is found here, which was run by Marie Grubbe in the early 1700s. After rounding the point you reach the Baltic Sea with one of the most beautiful sights on the trip. The land rises and on top of the hill is the former Næsgaard Agricultural School where Prince Joachim took his agricultural education. Today it is a well-run boarding school with multiple outdoor activities on the program. Further south you pass the Østersøskoven (Baltic Forest) with tall clay slopes and deep gorges. Each year the sea takes a bite of the cliffs and the beach is often filled with the big beech trees. You pass Abbelvig holiday camp, Skansen, and the easternmost point, Hestehoved with the lighthouse, which is no longer manned. Idyllic Hesnæs is known for its houses with straw roofs and walls as insulation against the east wind and for its marina. Just south of Hesnæs lies Pomle Nakke with Traktørstedet Pomle Nakke (restaurant). Accommodation can take place in primitive scout camp in the forest south of Pomle Nakke at Sadelmagerranden. It can be a little hard to find if you are not a map enthusiast.
VisitLolland-Falster © 2023