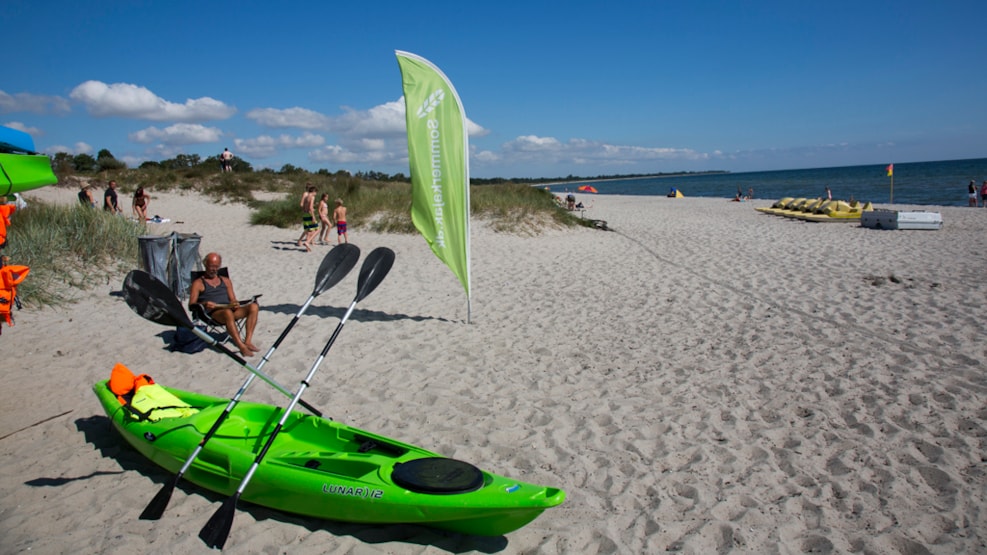 Canoe/Kayak Trip: Around Falster - Stage 4, approx. 19 km
Did you know, that you can see this route and many other nature experiences in the app "Naturlandet". The app can be downloaded in App Store or Google Play. All information is accessible in English, Danish and German – the app is FOR FREE.
STAGE 4: SADELMAGERRENDEN – MARIELYST – ØSTERSØPARKEN CAMPING
Tour description/experiences:
A large marsh, Donnemose, that reaches right out to the Baltic Sea, is passed on the way south. Halskov Vænge, about 1 km inland, is worth a visit. Here you find 72 burial mounds and six dolmens and a small museum with information about the forest and the many burial mounds. The artist group 7-9-13 lives close to the forest and Gallery Arleth which has changing art exhibitions. After this, you will pass the holiday colonies of Donnemose and Tunnerup. Just before the forest ends, you reach Generalens Lysthus ( "The General' s Pavilion"), which belongs to the estate of Corselitze, owned by the Classenske Fideicommis. The estate and the park is situated approx. 2 km from the beach. From here on and all the way down to the southern tip of Falster, we find the most beautiful sandy beaches on the island. Ulsle Beach: camping, nature playground, camp site. Sildestrup beach: campsite. Marielyst is a large holiday area with lots of restaurants, night life and entertainment. Marielyst Beach has for 3 consecutive years been elected as the best beach in Denmark. The holiday area continues down to Bøtø forest, but this stage ends at the Østersøpark Camping.
VisitLolland-Falster © 2023