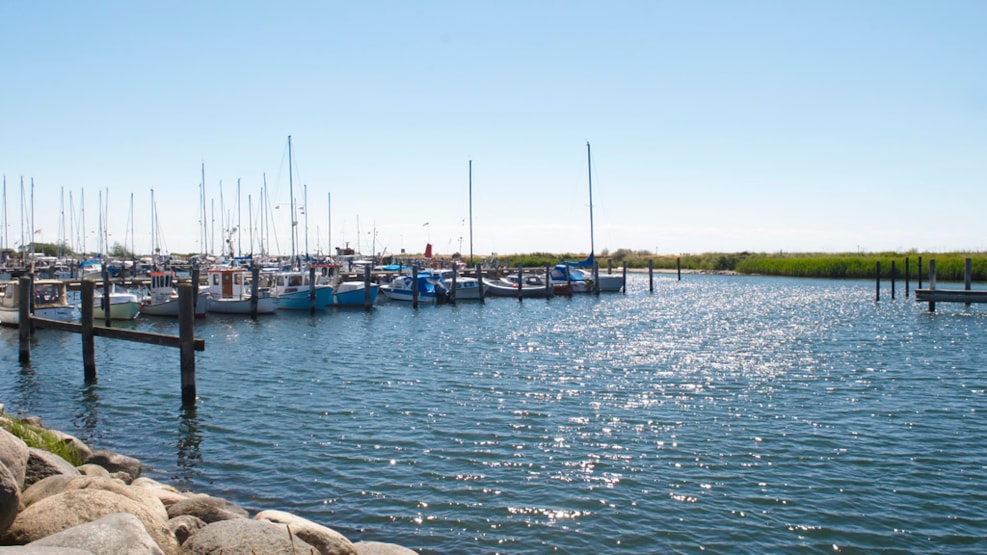 Canoe/Kayak Trip: Around Falster - Stage 5, approx. 16 km
Did you know, that you can see this route and many other nature experiences in the app "Naturlandet". The app can be downloaded in App Store or Google Play. All information is accessible in English, Danish and German – the app is FOR FREE.
STAGE 5: ØSTERSØPARK CAMPING – GEDSER YACHT HARBOUR
Starting point:
Marielyst, Østersøpark Camping Bøtøvej 243 – 4873 Væggerløse
Special conditions:
When rounding Gedser isthmus there are always big waves and if it is windy, the waves are large, making this the most critical point of the trip. Gedser industrial Harbour - be very aware of the big Scandlines ferries to and from Rostock.
Protection and respect:
It is not allowed to go ashore at Rødsand during the period 1 March to 30 September.
Tour description/experiences:
After approx. 1 kilometer the naturist beach is passed and then the Bøtø forest. The last holiday area is Gedesby, the original harbour. A visit to Gedesby Mill is recommended. You round Gedser, Denmark's and Scandinavia's southernmost point, which is marked by Sydstenen (The South Stone). There is a visitor's center with changing art exhibitions and information about Gedser and the geology of the isthmus. Right after the isthmus lays Gedser Lighthouse and Gedser Bird Station where the Danish Ornithological Society counts birds year around. One of Denmark's largest bird migration routes goes through Gedser. Then you round Kroghage near Rødsand, which is a bar extending from Hyldekrog on Lolland to Gedser with only a few passage possibilities. On Rødsand there is a large seal colony. Just south of Rødsand there are 2 offshore windmill parks. Gedser is the southernmost city of Denmark with several fine attractions like Det sorte Geomuseum (geologic museum), Gedser Water Tower, Gedser Church and Gedser Remise from where you may take a trip on the vintage train. There is a fine marina, shopping facilities and restaurant in the harbour. The old merchant's house is a tourist information center as well as a crafts shop and café. Shelter is available at Gedser nature school. There is a place to eat and a playground on Skovgårdsstien.
VisitLolland-Falster © 2023