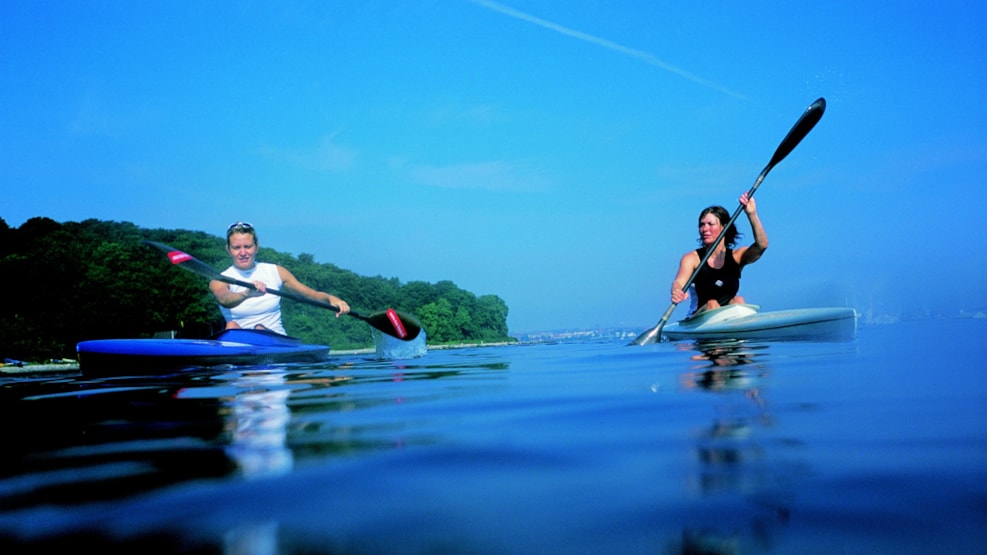 Canoe/Kayak Trip: Tour from Onsevig eastern direction, 5 - 9 km
TOUR: ONSEVIG – KASTAGER BEACH (APPROX. 5 KM) – NYBØLLE BEACH – EASTERN DIRECTION (APPROX. 9 KM)
Did you know, that you can see this route and many other nature experiences in the app "Naturlandet". The app can be downloaded in App Store or Google Play. All information is accessible in English, Danish and German – the app is FOR FREE.
Parking / starting point:
Onsevig Harbour, Byskovvej 114, 4913 Horslunde
The tours start from the landing bridge with parking in front of the Club house.
Special conditions:
Pay attention to strong eastern winds as it is hard to find shelter along this coastline. The seabed I sandy, but in some places you will find bigger rocks.
Tour description/experiences:
On the eastern tour you pass by the first offshore wind farm in the world on your left hand side and after approx. 5 km you pass Kastager Beach and arrive at Nybølle Beach after approx. 9 km. The kayaks can be docked on the beach. There are no toilet facilities. The trip out and back gives a tour of some 18 km. The journey can be continued further east to Urne harbour. The roundtrip is approx. 25 km; note that kayaks can go ashore at the port's eastern and western sides.
Continue to Urne Harbour:
Special conditions:
Pay attention to bigger stones in the shallow water. There are no toilet facilities.
Tour description:
On the entire eastern trip you will see a rich birdlife. Here there are many colonies of swans. Eider ducks, oystercatchers and various waders and ducks are also found here.
VisitLolland-Falster © 2023