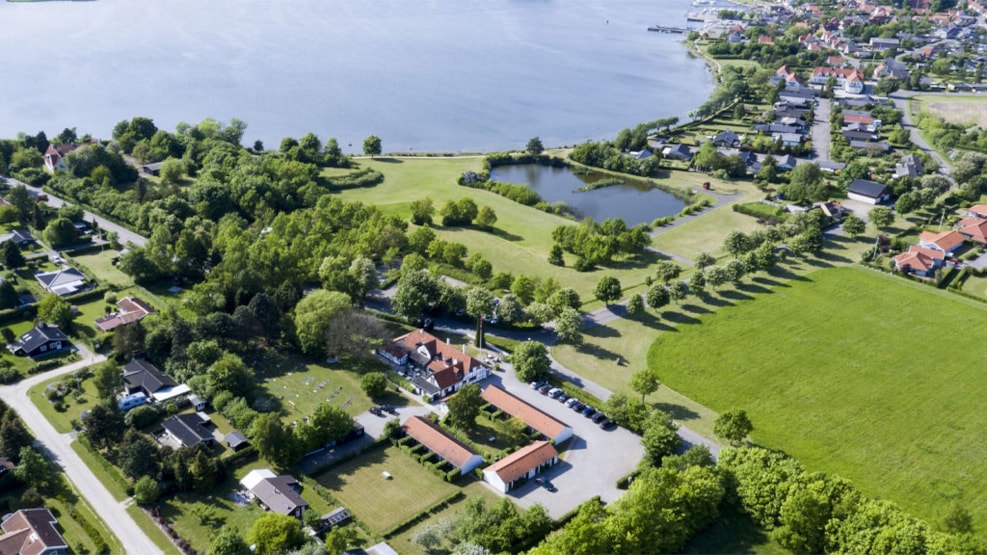 The Cottage Hotel
The Cottage is situated on the beautiful south coast of Lolland on the outskirts of the idyllic town Nysted.
Stunningly beautiful surroundings
From the hotel, there is a splendid view over the naturally stunning Nysted Cove and after a few minutes' walk you arrive at the coastline where you catch sight of the picturesque Aalholm Castle and Nysted Harbour. The well-maintained garden of the hotel lends itself to relaxation and tranquillity right outside your door.
In the summer months, we recommend the attractive and very child-friendly bathing beach – only a 2-minute walk from the The Cottage. We also offer our guests bicycle rental. There is a wealth of opportunities for a refreshing bicycle trip along naturally beautiful and tranquil trails.
A good night's sleep
How about your own patio and peaceful surroundings that envelope you in an air of tranquillity? The rooms are simply and tastefully furnished and all have access to secluded patios. After a good night's sleep, you can enjoy a delicious breakfast buffet. We also accommodate to special breakfast requests.
Naturally, all rooms include en-suite bathroom and TV.

Our rooms are also equipped with their own kitchenette and tableware, which gives our guests the possibility to prepare their own food, which they can enjoy both in their own patio and on the extensive grounds that surround The Cottage. This may be particularly attractive when renting a room as a summer apartment for a longer stay.

Here you can read more about the hotel restaurant.
VisitLolland-Falster © 2023