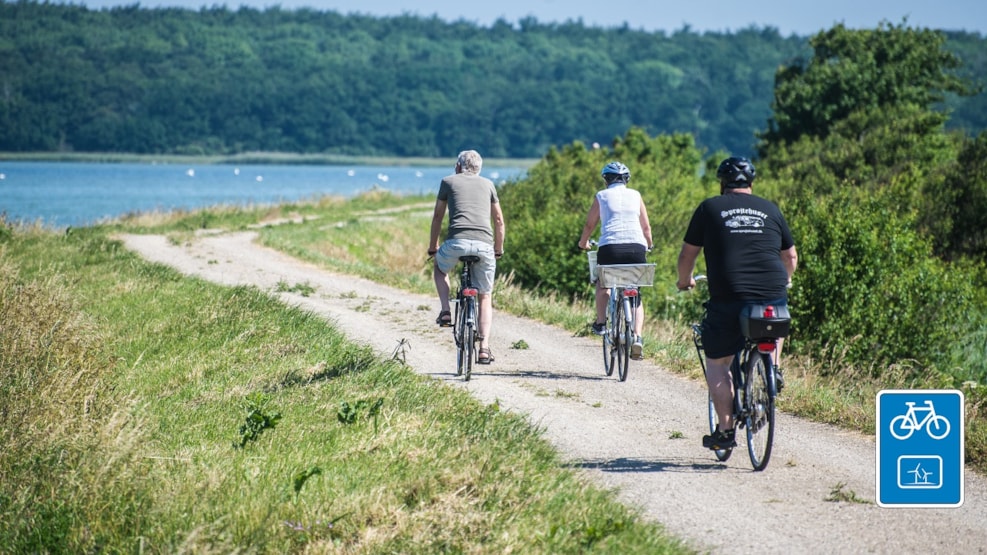 Cycle route: Along the Fjord - 37 km
A first-class tour of Nakskov Fjord. The 'Along the Fjord' bicycle route is a fantastic way to experience the beautiful Nature Park Nakskov Fjord from the land. The route is also suitable for hikers. 
The park is part of the Danish Nature Parks and has attained this seal of approval due to its unique nature values, diverse plant and animal species, interesting cultural environment as well as many good opportunities for outdoor activities on land and in the water. The tour starts and ends at Axeltorv - the square in the Nakskov town centre. Here you will find many shopping facilities, accommodation and places to eat.
The path from Nakskov to the halfway point 'Albuen' has a fine gravel surface and runs along the dyke, with no car traffic. The views of Nakskov Fjord are formidable.

Along the way, is the charming harbour town of Langø. From the harbour, there is a fantastic view of Enehøje - the largest island in Nature Park Nakskov Fjord. From here, you can take a trip with the Post Boat; check the website for the sailing schedule. At Langø there are several private places offering accommodation and there is a shelter and camping ground.
At Albuen there is a lovely campground with a kiosk and a good place to swim and an interesting walk along the length of the distinctive isthmus.
From Albuen, the tour goes back to Nakskov down small, windy country roads. The route takes you past a beautiful flower garden, a historical listed post mill, two churches and a small shop where you can buy refreshments.
Along the way, there are many small cosy places where you can stop and rest. Remember your bathing suit if the weather is fine.
Follow the route in the Naturlandet Lolland-Falster app, then you'll get even more fun experiences along the way! You can find the route in the "Naturlandet's Adventure Routes" category in the app.
The bicycle route is one of Naturlandet's 19 local adventure routes, which are signposted with symbols - just follow the "windmills". The route starts and ends in Nakskov, see the map below.
VisitLolland-Falster © 2023