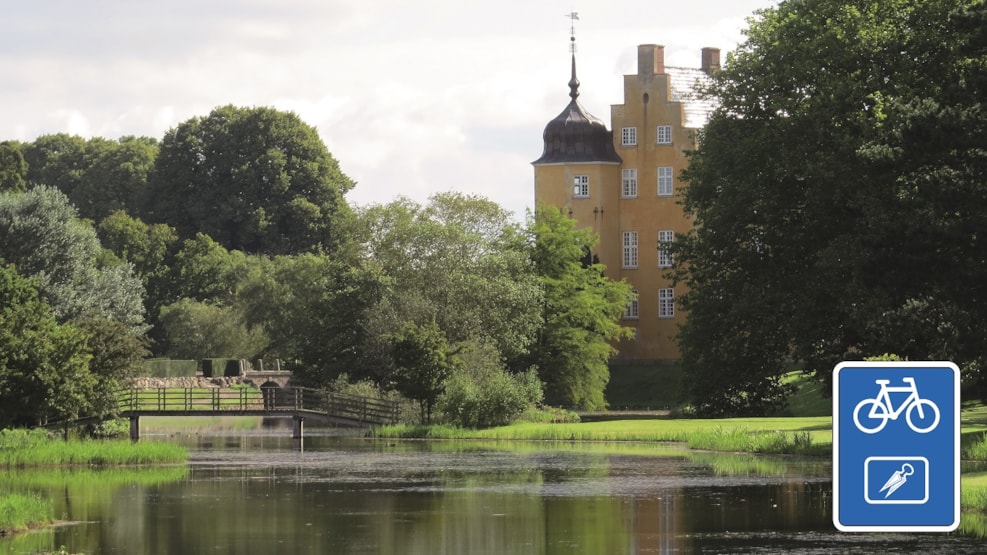 Cycle route: Around Sakskøbing - 17 km
Past three manors, an inn and an eatery. Around Sakskøbing is a lovely 17 km tour along the Sakskøbing Fjord and through vast manor estate countryside. The starting point is at Sakskøbing Harbour.
The tour will take you through the countryside and among the estates of Oreby Manor, Berritsgård Manor and Krenkerup Manor. Along the way, you will also come across a couple of interesting churches. There is also the option of visiting an inn at Oreby and an eatery at Krenkerup Manor on the route.
Sakskøbing Fjord is a fascinating nature area with protected saltmarsh areas along the banks and a diverse bird population. Remember your bathing suit, you can swim from the pier at Oreby Harbour. This is a detour from the main route, but well worth a visit. It is a historical estate harbour with several well-preserved buildings, a mill, warehouses and an inn.
Otherwise, the tour will take you overland, down minor roads and through small villages to Radsted. Here you can visit the lovely church and accommodation is available at Radstedhus.
The halfway mark of the route could be a stop at the eatery at Krenkerup Manor but check the opening hours.
The lovely historical market town of Sakskøbing has a hotel, backpackers' hostel and a campground. There are several places where you can purchase delicious local products - ranging from beer, wine and juice, to meat, vegetables and sweets.
Follow the route in the Naturlandet Lolland-Falster app, then you'll get even more fun experiences along the way! You can find the route in the "Naturlandet's Adventure Routes" category in the app.
The bicycle route is one of Naturlandet's 19 local adventure routes, which are signposted with symbols - just follow the "scissor". The route starts and ends in Sakskøbing, see the map below.
VisitLolland-Falster © 2023