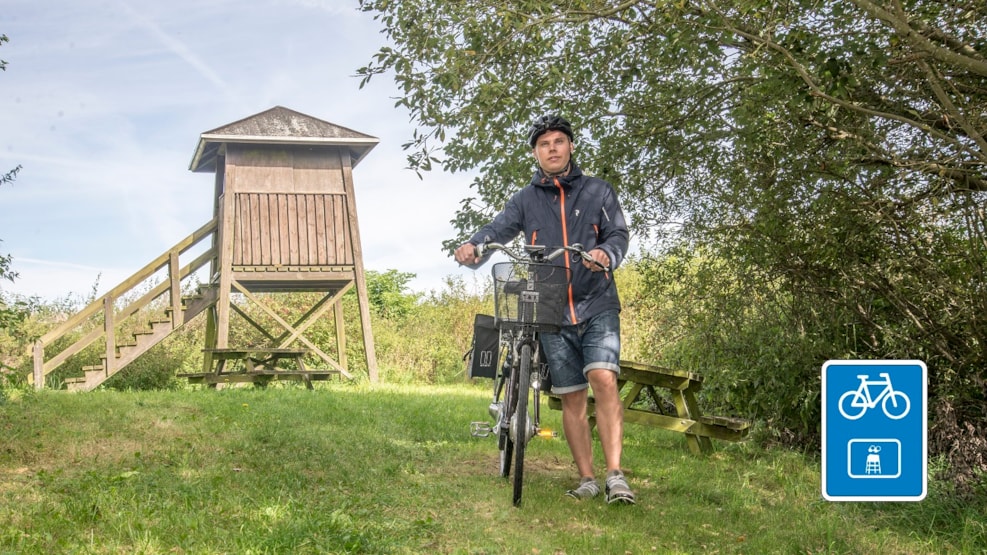 Cycle route: A Haven for Birds - 35 km
Experience birdlife in the flat countryside around Guldborg. A Haven for Birds is a lovely 35 km bicycle route. The starting point is at the marina in Guldborg. 
The main highlights of the route are the two bird reserves: Kalø Graa and Majbølle Nor. You can even take your bicycle with you into Kalø Graa reserve but remember to dismount first! Both reserves have birdwatching towers from which you can look out over the beautiful landscape and all the birds.
Please note that the tour through Storskoven forest has no signs in the actual forest, there is only a Naturlandet sign at the entrance of Spurvestræde (street) in Soesmarke and at Kalløvej (street), check the map for details.
The route follows peaceful roads, many of which have bike paths
A particularly special experience is to ride around the Guldborgsund Tunnel and look down on the motorway, as well as lovely Guldborg Sound.
Majbølle is a good place to take a break, there is a picnic bench at the village pond.
If you think the tour may be too long, you can complete the route over two days. Finish the first day by returning on the main road between Majbølle and Guldborg. The second part of the route will then be from Guldborg to Majbølle, then continuing to Hjelm and the Guldborgsund Tunnel to the Majbølle Nor reserve.
Follow the route in the Naturlandet Lolland-Falster app, then you'll get even more fun experiences along the way! You can find the route in the "Naturlandet's Adventure Routes" category in the app.
The bicycle route is one of Naturlandet's 19 local adventure routes, which are signposted with symbols - just follow the "birdwatching tower". The route starts and ends in Guldborg, see the map below.