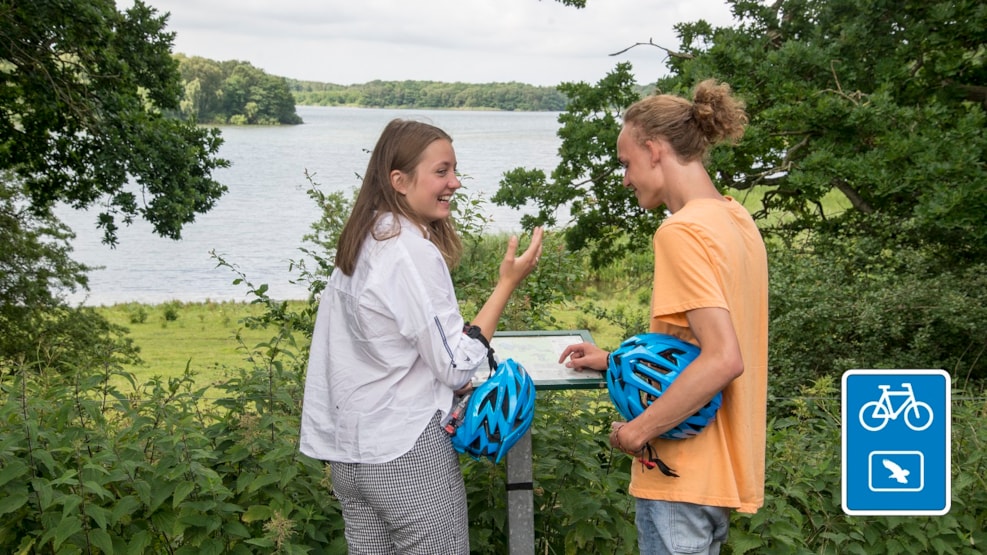 Cycle route: In the Land of the Sea Eagles - 36 km
The best place to view white-tailed sea eagles in Denmark. The bicycle route "In the Land of the Sea Eagles" gives visitors a fantastic opportunity to experience beautiful Nature Park Maribo Lakes from the land; it is also a great trail for walkers. 
The nature park is one of the Danish Nature Parks and has attained this seal of approval due to its unique nature values, diverse plant and animal species, interesting cultural environment as well as many good opportunities for outdoor activities on land and in the water. White-tailed sea eagles are one of the many species that you are almost guaranteed to see soaring over the lakes.
The Maribo Lakes are four interconnected lakes. This bicycle route goes around the two largest: Søndersø and Røgbølle Sø.
The tour's start and finish point is at the Maribo Tourist Information Centre, in the centre of Maribo. Here you will find numerous shopping, accommodation and dining options.
The halfway mark of the tour is the birdwatching tower at Røgbølle Sø, with a wheelchair-friendly viewing platform and picnic benches where you can enjoy your packed lunch.
Between Søndersø and Røgbølle Sø lies the idyllic Søholt Gods manor, with its interesting French Baroque garden, which is absolutely worth a visit. Søholt Gods offer guided tours with optional light refreshments.
The return route passes Naturskolen (Nature School), with a fantastic view of Søndersø, then along a beautiful trail to the Open-Air Museum, where the Naturlandet Information Centre is located.
The route passes several places with glorious views of the lakes, so bring your binoculars if you want a close-up view of the birdlife.
There are many picnic benches along the route, where you can enjoy your packed lunch with a view.
Follow the route in the Naturlandet Lolland-Falster app, then you'll get even more fun experiences along the way! You can find the route in the "Naturlandet's Adventure Routes" category in the app.
The bicycle route is one of Naturlandet's 19 local adventure routes, which are signposted with symbols - just follow the "sea eagle". The route starts and ends in Maribo, see the map below.
VisitLolland-Falster © 2023