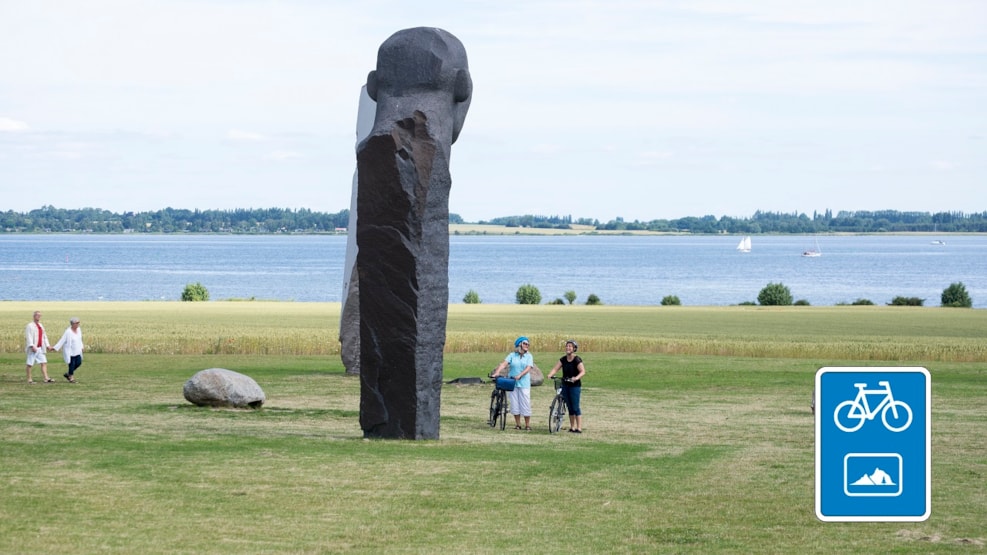 Cycle route: The Lollandian Alps - 36 km
Undulating landscape in an area of natural beauty. Lolland is known for its flatness, but the hills of Ravnsby Bakker are the complete opposite. They form a very distinctive and utterly beautiful undulating landscape.
At the end of the last ice age, around 20,000 years ago, the ice moved back and forth in the area of Ravnsby Bakker, forming large hills and valleys. These movements also resulted in the deposition of some large blocks of ice under the ground, which melted more slowly than the rest of the ice. These blocks are called 'dead-ice' and when they have finally melted, they leave large, deep holes, like at Ravnsby Bakker.
The bicycle route starts in the attractive harbour town of Kragenæs, which connects Lolland to Fejø and Femø by ferry. From here, the tour continues to the Dodekalit - a spectacular world-class sculpture which is still under construction. Enjoy the magnificent view of the waters of Småland.
After a visit to the castle ruins of Ravnsborg, the tour continues towards a flatter landscape - Ugleholt Forest and the tour's halfway mark of Vesterborg.
Vesterborg is a good place to have a well-earned rest at the church, and to enjoy your packed lunch. Afterwards, ride on to Pederstrup, Reventlow Parken and Kong Svends Høj burial mound - a very special passage grave that is well worth a stop.
Even though the bicycle route is called 'The Lollandian Alps', it is absolutely suitable for everyone. Don't miss out on this lovely bicycle route!
Follow the route in the Naturlandet Lolland-Falster app, then you'll get even more fun experiences along the way! You can find the route in the "Naturlandet's Adventure Routes" category in the app.
The bicycle route is one of Naturlandet's 19 local adventure routes, which are signposted with symbols - just follow the "mountains". The route starts and ends in Kragenæs, see the map below.