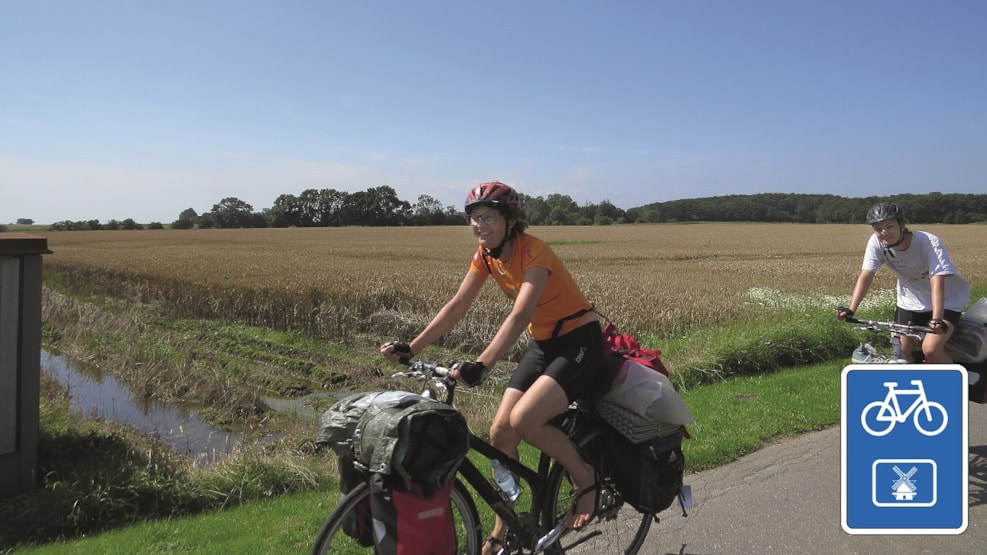 Cycle route: Moors, Mills and Movement - 20 km
Small villages and beautiful landscapes west of Nysted. Moors, Mills and Movement is a lovely bicycle route of 20 km.  The starting point is in Nysted, at the tourist information centre by the harbour.
The bicycle route winds over the flat coastal area west of Nysted, past Ålholm Castle, the idyllic village of Stubberup and the beautiful Herritslev Moor - by the Baltic Sea.
Have a rest at the picnic area at Stubberup Moor, or wait until you get to Bregninge church in the village of Grønnegade. The tiny church has no bell tower, instead the bell hangs from a wooden bell stand.
East of Grønnegade the route passes two lovely burial mounds. In Kettinge, visit a former quarry that has been converted into a park. Visit the mill and purchase refreshments.
The entire route follows minor roads with little traffic, in a comfortable, flat landscape.
Follow the route in the Naturlandet Lolland-Falster app, then you'll get even more fun experiences along the way! You can find the route in the "Naturlandet's Adventure Routes" category in the app.
The bicycle route is one of Naturlandet's 19 local adventure routes, which are signposted with symbols - just follow the "mill". The route starts and ends in Nysted, see the map below.
VisitLolland-Falster © 2023