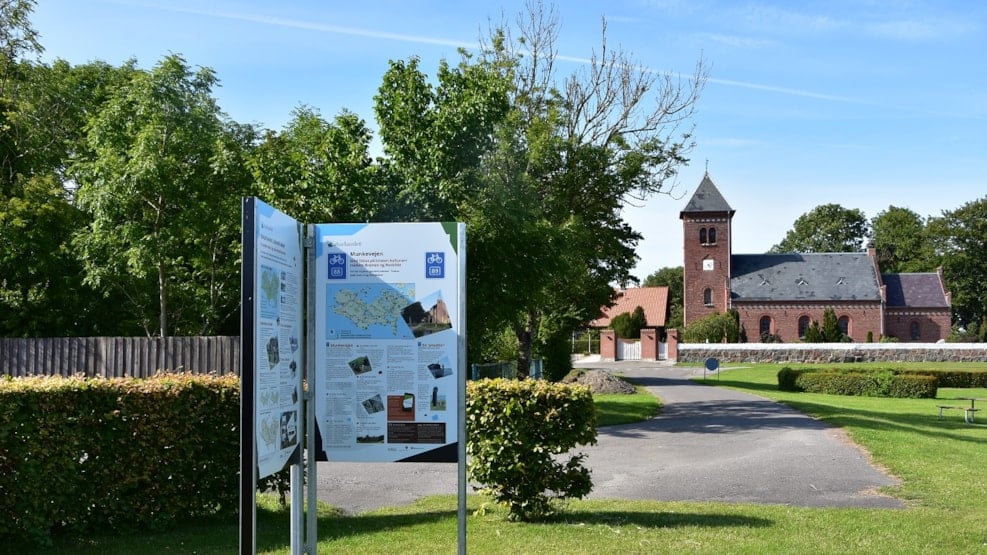 Cycle route: Munkevejen - 168 km
Beautiful churches and lovely landscapes. The Monk Road is a themed bicycle route. It takes you to historical places that bear witness to the spread of Christianity and its significance for Denmark's cultural heritage. The scenic route also provides information about the unique scenery, and many market towns and villages in the area.
The route offers a variety of experiences, travelling along existing minor roads, paths and recreational routes through the landscape. It passes by churches, monasteries, historical ruins, ancient holy springs, culturally significant sites and other places of special interest. The route starts in Glückstadt, Germany, approx.
30 km north of Hamburg and continues through Schleswig-Holstein to Puttgarden on Femern, which has a ferry connection to Rødby Havn in Denmark. On the Danish side, the route continues from Rødby Havn on Lolland, over Falster to Bogø and ends in Roskilde. Many of the churches on the route are decorated with frescoes. They were all painted over 500 years ago. Pilgrimage churches, holy springs and water mills are also signs of work of the monks.
There are starting points for the different stages of the route in the following towns: Rødby Havn, Maribo, Nysted, Nykøbing F., Hannenov Forest, Nørre Vedby and Stubbekøbing.
The route is signposted as R88 and is approx. 615 km long. From Rødby Havn, you can take a side trip through Nakskov and North Lolland, this route is signposted as R89. The loop is 125 km long and joins up with the R88 again in Maribo. In Germany follow the Monk Road logo.
Follow the route in the Naturlandet Lolland-Falster app, then you'll get even more fun experiences along the way! You can find the route in the "Crossing Naturlandet Lolland-Falster" category in the app.
The cycle route is an international route, which is fully signposted all the way. The route's starting point on Lolland is in Rødbyhavn, which can be seen on the map below.
VisitLolland-Falster © 2023