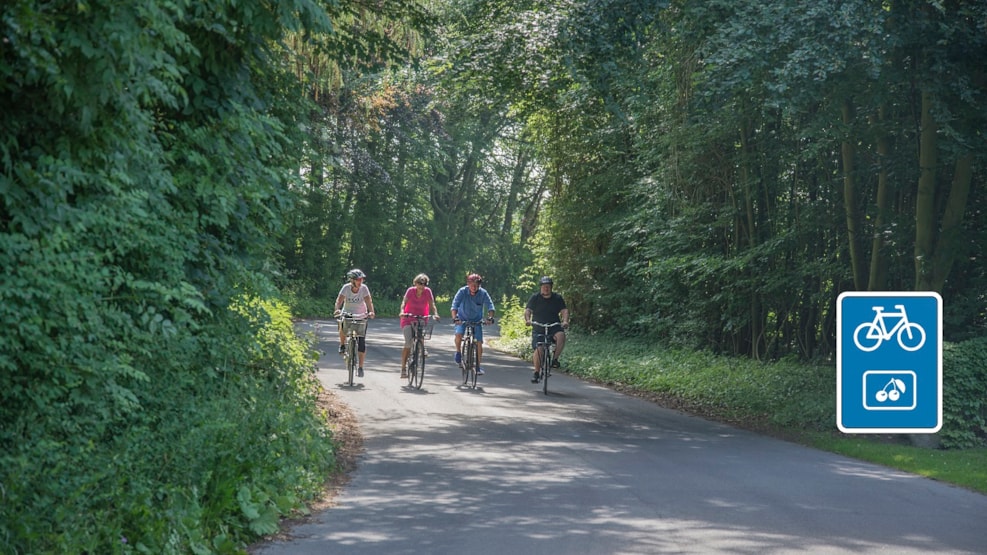 Cycle route: The Nordic Grape - 51 km
Through cherry orchards, villages and beautiful nature. The bicycle route 'The Nordic Grape' takes you through scenic landscapes in the northern part of Nature Park Nakskov Fjord - which has Denmark's mildest climate; perfect for a bicycle tour! 
The nature park is one of the Danish Nature Parks and has attained this seal of approval due to its unique nature values, diverse plant and animal species, interesting cultural environment as well as many good opportunities for outdoor activities on land and in the water.
The tour starts and ends at Axeltorv - the square in the Nakskov town centre. Here you will find shopping facilities, accommodation and places to eat. From Nakskov, the route follows the harbour and Nakskov Fjord, then heads north through Sandby to Frederiksdal Gods - an estate internationally recognised for its cherry wine. The estate has a farm shop, castle grounds and beautiful scenery with walking trails.
The halfway point of the bike route is the cosy harbour town of Onsevig - an old fishing village with an overnight shelter area, camping area, restaurant, private B&B, as well as a museum with exhibits about the history of the harbour and the village.
The return tour to Nakskov passes through several small villages with beautiful churches; usually with a picnic bench and toilet - check the map! Naturlandet also recommends visiting the southern part of Nature Park Nakskov Fjord, with the bicycle route 'Along the Fjord'.
Follow the route in the Naturlandet Lolland-Falster app, then you'll get even more fun experiences along the way! You can find the route in the "Naturlandet's Adventure Routes" category in the app.
The bicycle route is one of Naturlandet's 19 local adventure routes, which are signposted with symbols - just follow the "cherries". The route starts and ends in Nakskov, see the map below.
VisitLolland-Falster © 2023