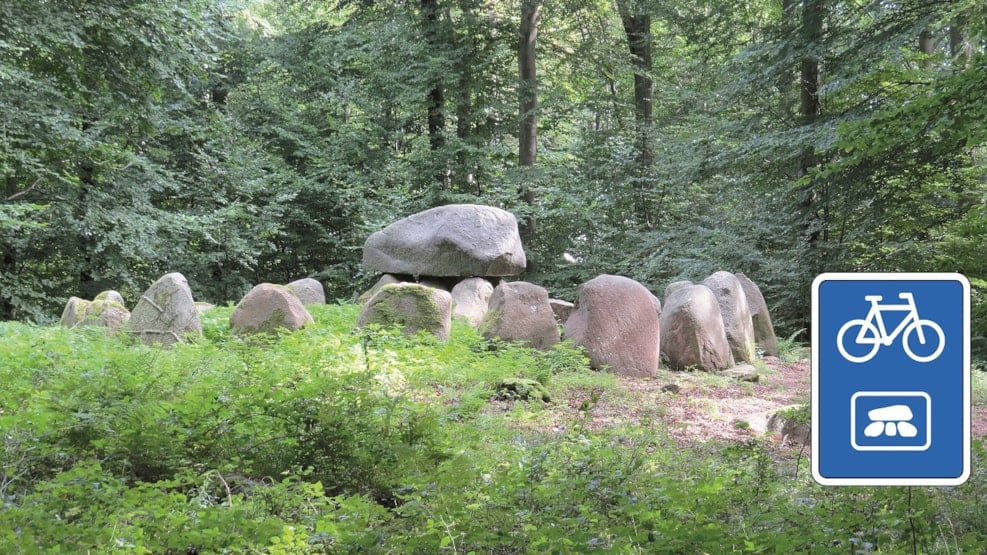 Cycle route: The Prehistoric Route - 25 km
A beautiful and interesting tour east of Nysted. The Prehistoric Route is a 25 km bicycle route through lovely natural scenery. The starting point is at the Nysted tourist information office at the marina.
As its name indicates, this bicycle route is a theme-route with a focus on experiencing the numerous historical monuments located along the way.
The route winds its way past more than 150 historical monuments. Most of them are tucked away in the Frejlev Forest, where it is recommended that you visit the sites that are easy to access and signposted. The 'Backbreaker Stone' (Knækkerygsten) is on the route - where it is said that a nasty bailiff lost his life, and the 'Rogues' Cross' (Skalkekors) which is part of the same story.
The bicycle route passes through the lovely, flat landscape east of Nysted, along the southern and eastern coasts of Lolland, with fantastic views of the Baltic Sea and Guldborg Sound. The route also goes through numerous small, idyllic villages and two large forests.
The halfway mark of the bicycle route is at the Backbreaker Stone, but a good place for a rest is at Holten Strand, where there is a large public area with picnic benches, a shelter area, campground and a lovely swimming beach with a pier, so remember your bathing suit!
The tour passes through a fenced-off area in Roden Forest, where there are many fallow deer and a small population of completely white fallow deer.
Look out for white-tailed sea eagles when you get to the saltmarshes near the forest. The eagles often hunt at the coast here.
After Frejlev, the tour continues to Kettinge then back to Nysted.
Follow the route in the Naturlandet Lolland-Falster app, then you'll get even more fun experiences along the way! You can find the route in the "Naturlandet's Adventure Routes" category in the app.
The bicycle route is one of Naturlandet's 19 local adventure routes, which are signposted with symbols - just follow the "burial mound". The route starts and ends in Nysted, see the map below.
VisitLolland-Falster © 2023