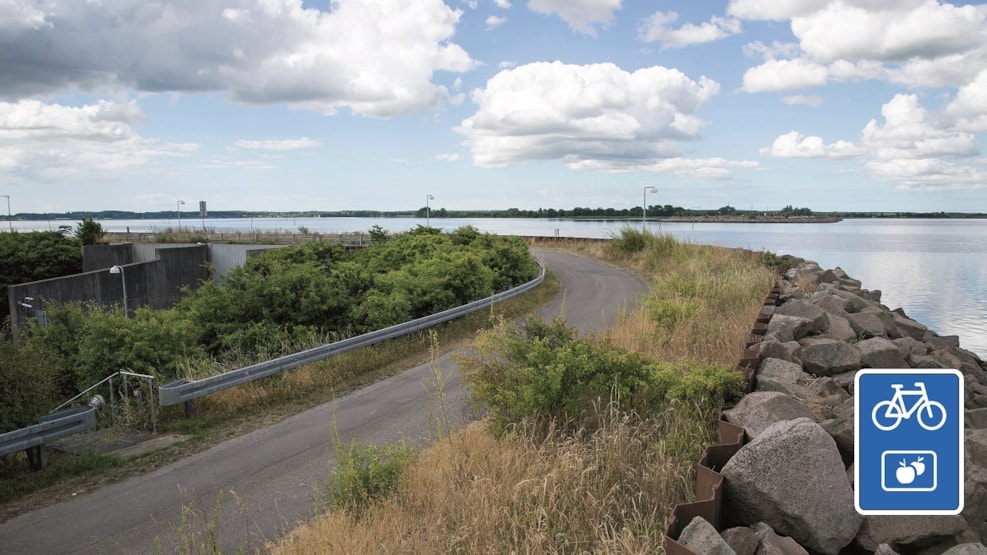 Cycle route: Sundruten - 44 km
Around Guldborg Sund strait, through forests and manor house countryside. Sundruten is a 44 km long bicycle route through lovely natural scenery. The starting point is at Slotsbryggen, in Nykøbing Falster.
The tour heads north, past the Ny Kirstineberg Manor and through manor house countryside with vast fields and hedgerows. Other estates are Gl. Kirstineberg, Pandeberg, Vennerslund and Klodskovgård, which together make up Guldborgsund Fruit, famous for their apple juice from the local orchards.
The halfway-mark is Guldborg, with accommodation, shopping and dining facilities. There is also a beach, historical monuments in the forest and a shelter area.
Further south, on the Lolland side of the route, are Majbølle Mill and the large nature reserve Majbølle Nor, just by the tunnel over Guldborg Sound.
The tour continues through Hamborgskov forest, where you can enjoy the peace and quiet and perhaps see some animals. From the forest, catch glimpses of Guldborg Sound and the large Løgnor with its rush meadows. The route passes the Medieval Centre, the largest tourist attraction in the area.
The tour ends by crossing King Frederick IX's bridge, bringing you back to Nykøbing F.
Follow the route in the Naturlandet Lolland-Falster app, then you'll get even more fun experiences along the way! You can find the route in the "Naturlandet's Adventure Routes" category in the app.
The bicycle route is one of Naturlandet's 19 local adventure routes, which are signposted with symbols - just follow the "apple". The route starts and ends in Nykøbing Falster, see the map below.
VisitLolland-Falster © 2023