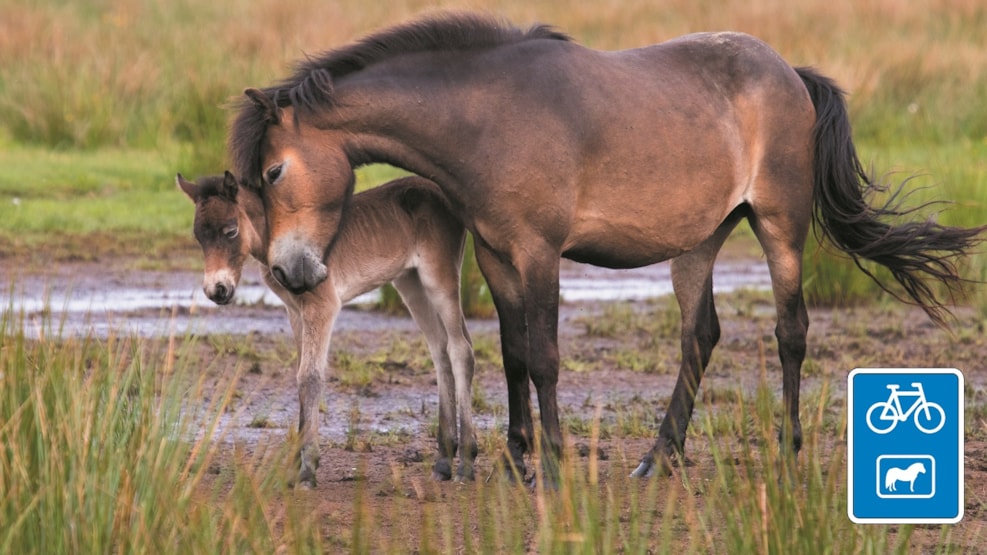 Cycle route: Wild Horses - 37 km
Unique nature on southernmost Lolland. The bicycle route "Wild Horses" awaits you, with many exciting experiences on southern Lolland and in the Saksfjed-Hyllekrog nature reserve.
The southernmost point of Lolland consists of the Saksfjed Containment and Hyllekrog isthmus. The nature reserve is one of Denmark's most important areas for migrating birds and is also home to wild horses, a breeding pair of white-tailed sea eagles, a wealth of water birds, a large population of fallow deer as well as many other interesting fauna and flora species.
Starting at the Lalandia holiday centre, the route passes through Rødbyhavn and continues to Tågerup. It then travels down Kastanjealle to the beautiful Lungholm Castle and on to Errindlev. Refreshments can be purchased at the community-run village store, or choose from one of many delightful places to enjoy your packed lunch in this tranquil village.
Lyttesholm Nature Centre is the next significant stop on the tour, with access to the Saksfjed-Hyllekrog Nature Reserve. The centre provides comprehensive information about the area and ideas for how to experience the singular nature of the nature reserve.
With a beautiful view over Fehmarn Belt, the route winds back towards Rødbyhavn, west along the southern Lolland dyke, which was established after the storm flood of 1872. On your way through Rødbyhavn, you ride along the Jernbanesti (Railway Trail), a former railway line that once connected the harbour of Rødbyhavn with Rødby, Holeby and Maribo. The entire stretch to Maribo is a lovely and car-free path - a perfect choice for your next Naturlandet adventure!
Follow the route in the Naturlandet Lolland-Falster app, then you'll get even more fun experiences along the way! You can find the route in the "Naturlandet's Adventure Routes" category in the app.
The bicycle route is one of Naturlandet's 19 local adventure routes, which are signposted with symbols - just follow the "horse". The route starts and ends in Rødbyhavn, see the map below.
VisitLolland-Falster © 2023