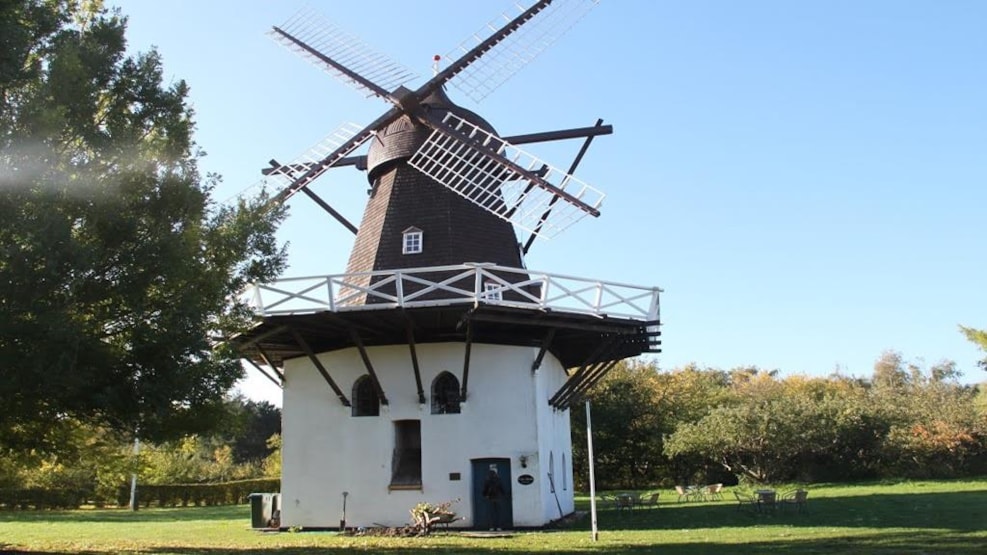 The Fejø Mill - Café, Sales and Tourist Information
The mill is from 1858 and was originally placed somewhere else on Fejø, but in 1905 it was taken down and moved to its current location in Østerby. 
Hours and events
Fejø Mill opens for the summer during the first weekend of June and stays open every weekend of June, every day of July and certain days of August. For more information, please visit the Mill in Facebook.
The mill organizes a series of free events with concerts, lectures and other activities, among these the Danish Mill Day, the Mill's Birthday, and the Day of Apples on Fejø.
The café
In the café you can buy coffee, tea, cocoa and ice cream, as well as a smaller selection of home-made cakes, including the famous Fejø Mill Cake. You may also bring your own food to eat in the café.

The shop
In the mill shop you may purchase ecological flour by Aurion, Fejø mill beer, as well as many other mill goods. The shop also offers many locally made products such as honey, jam, fruit cider as well as handicrafts by local artists.

The Tourist Information
The mill will give you all the information you need about accommodation, events and activities on Fejø.

Payment
Due to available technical possibilities, payment is currently only possible in cash.

Orders of coffee and cake for larger groups of visitors
Call Birthe at +45 24263503 and discuss the details.

A mill that is run exclusively by volunteers
The Fejø Mill is supported by volunteers from the Fejø Mill Association and is in immaculate condition. It is fully functional and on special occasions the reefable storm-safe sails are placed on the wings. In the mill there is a café complete with sale and the local tourist information, run by the volunteer mill girls.
VisitLolland-Falster © 2023