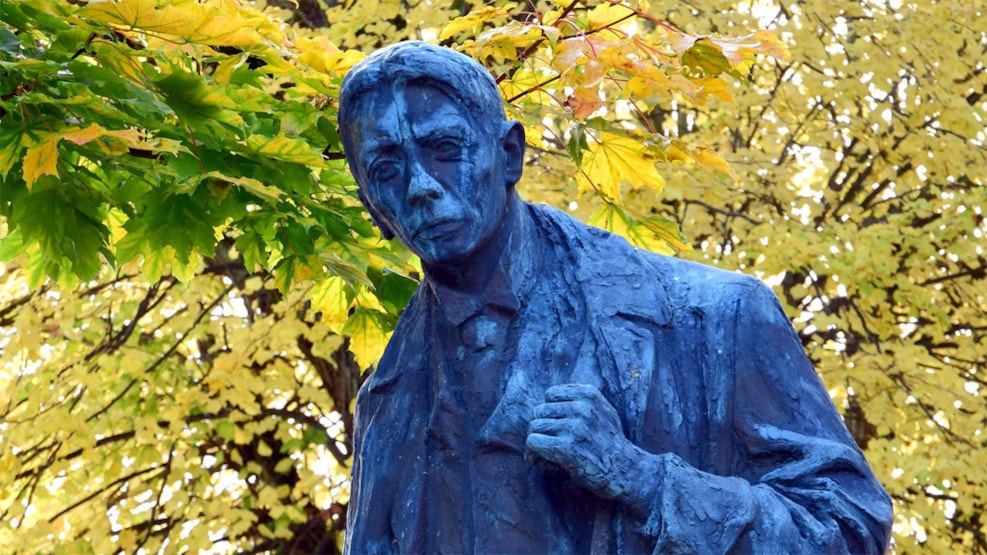 In the footsteps of Kaj Munk
Go exploring and discover the poet-pastor Kaj Munk's Lolland origins – including the memorial stone that marks the location of his childhood home, the building where he went to school and the life-size statue in the square.
Kaj Munk was born in Maribo in 1898. He lost both his parents at an early age, was taken into foster care, and later adopted by his mother's childless cousin Marie Munk and her husband Peter Munk.
Munk's parents' grave, with a tombstone shaped like an oak stump, can be found in Maribo Cemetery (plot no. 1168).
In Opager near Vejleby, a memorial stone commemorates Kaj Munk's childhood home. Today, the stone stands near a new house that has the same location as Kaj Munk's childhood home (Kaj Munks Vej 11, 4920 Søllested).
In Maribo, a memorial plaque can be found on the property located at the site where Kaj Munk was born (Torvet 11). This was Garvergården where Kaj Munk's biological parents lived. A memorial plaque can also be found on the property where Kaj Munk went to school (Kaj Munks Gade 6).
The square in Maribo is home to a life-size statue of Kaj Munk (Torvet 1).
Munk was highly conflicted about the choice between working as a pastor or a poet. However, he completed his theological degree in 1924 and was pastor of Vedersø parish in Jutland until his death in 1944.
He wrote countless poems, plays, travelogues and newspaper articles, and depicts his great love for the island where he was born in the poem 'The Blue Anemone'. 
Kaj Munk was extremely active in the social debate of his time. He was an outspoken critic of the German occupation, both in the social debate and in his literary work. On 4th January 1944, he was executed by the German occupying forces.
Read more about Kaj Munk here.
VisitLolland-Falster © 2023