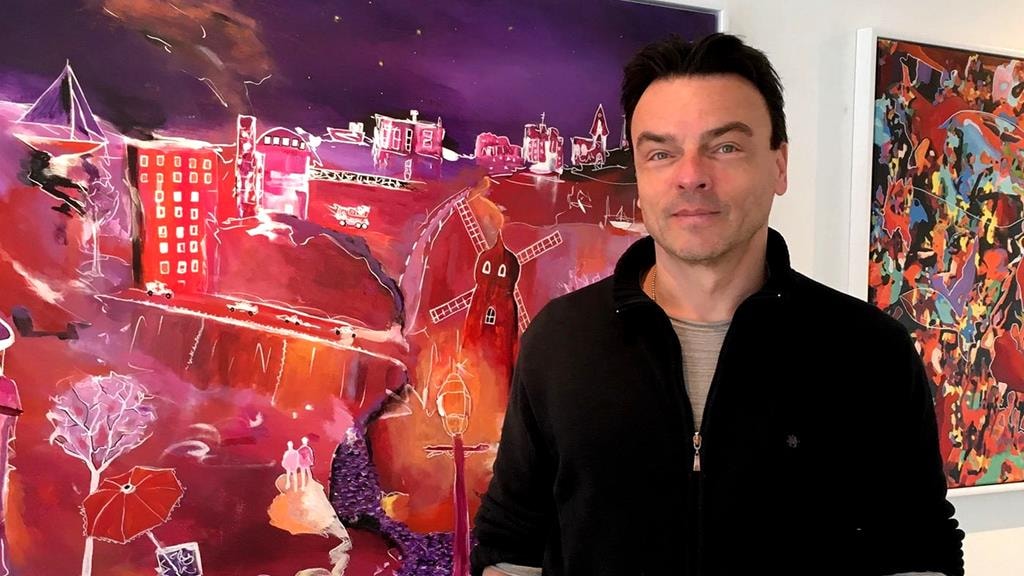 Gallery Peter Pitsch
Peter Pitsch is born in Herford, Germany. He lived among others in Berlin and Amsterdam and several years in one of the most beautiful cities in the world, Rome. One day, however, he met a beautiful woman from Denmark in Piazza Navona. Eight months later Peter followed her to Copenhagen and in the 1990s he lived in the then wicked Vesterbro district. In 2000 the Danish-German couple moved to Nykøbing Falster; Peter worked among others as a writer, book designer, in the local sugar factory and additionally as an artist.
25 years ago he made his debut as a writer; til today he has published 18 books in several languages. Since the publication of his first book Peter has been illustrating his own texts, creating a connection between language and the visual, either in the form of collages, photographs or paintings. What is hidden beneath the surface? His pictures tell a story using strong colors and dynamic shapes that often flow into each other.
In 2017 Peter Pitsch opened his own art gallery in Nykøbing Falsters Latin Quarter – with the monastery church and the old water tower as neighbors.
The gallery homepage: https://galleri-peter-pitsch.jimdo.com/
The author homepage:  https://peter-pitsch-schriftsteller.jimdo.com/