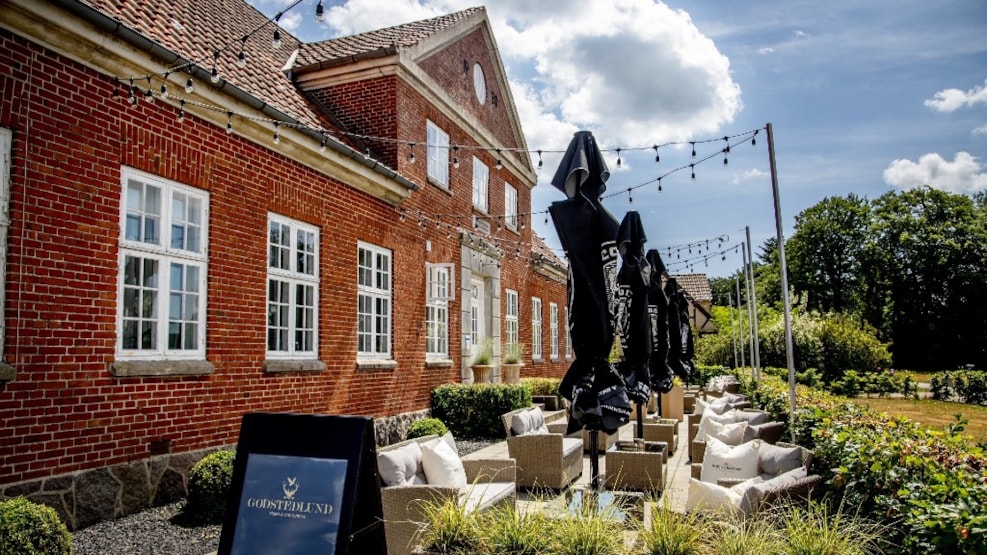 Godstedlund
Godstedlund is an adults only hotel (18+). The hotel is the perfect base for a holiday on Lolland-Falster. We are situated right in the middle of Lolland-Falster and on the outskirts of Nature Park Maribo Lakes. While we are blessed with the most wonderful natural surroundings, the towns of Maribo, Nysted, Nykøbing F, and Sakskøbing are all within easy reach. Each town is different from the other, and we are eager to help with information about food, culture, and many other things. At Godstedlund we have a wide range of tourist information, for example about museums, nature, and the captivating history of Lolland-Falster.
Parties and conferences
Would you like us to provide the framework for your special day such as your wedding, a confirmation dinner, a christening celebration, or a birthday, then apart from The Salon in the main building, we also have the old studio with space for 80 guests. This is the perfect setting for a beautiful wedding with the wedding ceremony itself in the garden, followed by a gourmet dinner made with local produce and live music dancing. It is up to you how you would like it unfold, and we shall do our utmost to make your wishes come true.
Accommodation
We have carefully considered things and offer facilities such as baby cots, baby tubs, and baby changing tables. Our beds and duvets are allergy friendly, our soap and paper are sustainable – all of it as part of our vision to make Godstedlund even more environmentally friendly. We have 7 rooms. Baths/toilets are shared and situated adjacent to the corridor. All rooms are on the first floor and accessed via a staircase.
Behind the main building, you will find a garden for play and relaxation as well as a sand box for the more creative souls. Your dog is welcome too, and if you feel like a bicycle ride, Godstedlund offers bike rental in collaboration with Larsson Cykler in Maribo.
Events at Godstedlund
All year round we offer various special in-house events such as Lolland Cake Day, Afternoon Tea, Mother's Day Lunch, Easter and Christmas Lunches, as well as the presentation of every year's Christmas façade decoration, which is landmark in the area and a sure sign that Christmas is coming.
VisitLolland-Falster © 2023