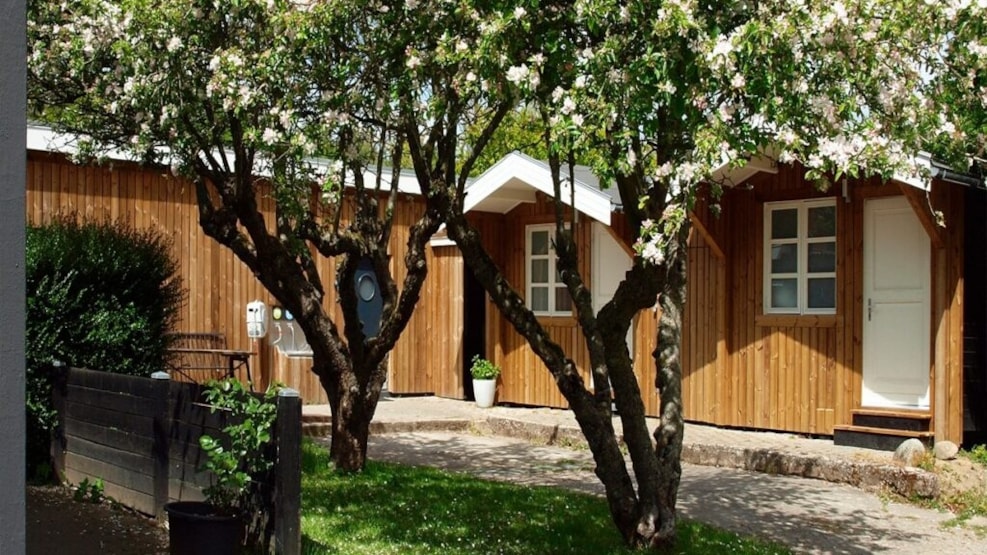 Guldborg Camping
Guldborg  Camping is a small, idyllic site with 110 units, generously spread over three  acres of land - a cozy place for solo travelers, couples, the whole family or  groups. Located in a former orchard, our campsite offers excellent  opportunities to recover in your own tent or caravan or in one of our cabins (2-6  people).
The directly adjacent forest is ideal for long walks. On our doorstep lies the Guldborgsund, a large open water, surrounded by a beautiful landscape. Discover the path through the woods to the beach at the Smålandsfarvandet!
Also for activities will be provided. On the site you'll find a playground with a  toy cable car, jumping pillow, a minigolf course with twelve tracks, two  pétanque fields and sportscourt. Of course there is also a fireplace - and,  what is most important, a good, welcoming atmosphere. Start your day with our delicious breakfast in an active day!
And if you whish to leave our facilities for the day, there are plenty of excursions! Travel back in time in the Mittelaltercentret, marvel at crocodiles in the Crocodile Zoo or visit one of the many museums. And a day trip to  Copenhagen is a must be during your holiday in Denmark.
Once arrived in Denmark, we are only 40 kilometers away from Gedser (ferry Rostock-Gedser) and Rødby (ferry Puttgarden- Rødby).
VisitLolland-Falster © 2023