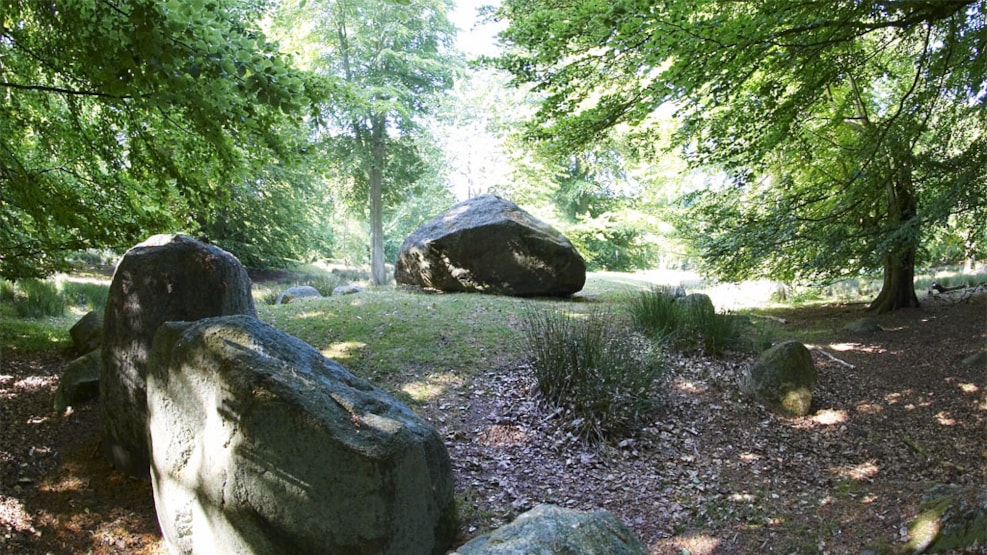 Halskov Vænge
Follow the trail of the ancient monuments: In Halskov Vænge, an unusual number of ancient monuments have been preserved. This is due to the fact that ancient farmers did not clear the forests for agriculture. You will encounter no fewer than 78 ancient monuments on your walk around the beautiful natural area.
Stone dolmens
The 6 stone dolmens date from the Bronze Age approx. 5500 years ago. The stone dolmens were used for burials throughout the Neolithic Age and the burial chamber was often reused.
Burial mounds
In the same area are 72 burial mounds from the end of the Bronze Age approx. 2500-3000 years ago. They were probably used for urn burials.
The burial mounds are gathered together in 3 groups, where the soil has not been cultivated since ancient times.
Until as late as the 18th century, it was believed that stone dolmens and burial mounds were the abode of the "underworld", and the fear of these unknown creatures helped to preserve many of our ancient monuments for many centuries.
Falster's largest rock
You can also encounter Falster's largest rock, which was brought here by the ice more than 15,000 years ago.
There are two small bowl-shaped depressions on the rock, which are cult signs from the Bronze Age – also called petroglyphs or rock carvings. Rock carvings are found in many places in the country, but these are considered to be some of Denmark's oldest. Legend has it that the stone turns when it smells freshly baked bread.
Museum
In Halskov Vænge there is also a charming small museum about burial mounds and dolmens, which is always open.
Picnic shelter and campfire site
Halskov Vænge has a picnic shelter with toilet facilities. There is also a campfire site available to all, but you must bring your own grill grate and firewood.
Both can be used without booking.
Hiking route
A hiking route begins at the car park, guiding visitors around the entire forest through a landscape of meadows, grasslands and untouched forest. On the route, you can enjoy the abundant wildlife and the many trees and plants, which are marked with yellow spots.
Find inspiration for trips and other experiences in the area in the 'Naturlandet' app.