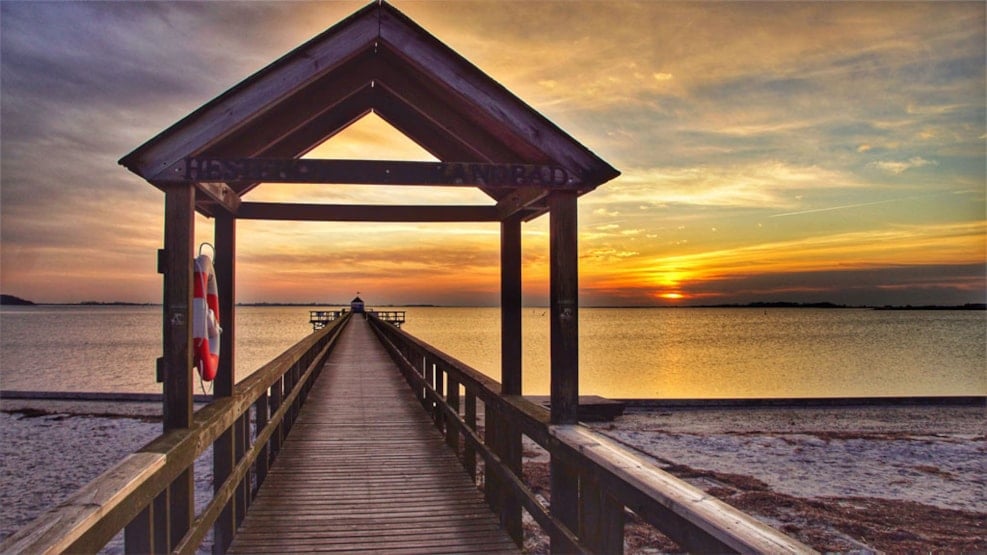 Hestehovedet Beach
Beautiful beach area with Denmark's second longest swimming jetty and high water temperatures at Nakskov Fjord Nature Park.
Hestehovedet Beach is a great place to spend the day, as the beach offers many exciting activities such as beach volleyball and ball courts. The beach is both child-friendly and accessible to the disabled, with a lovely 190-metre-long swimming jetty. There are many good facilities at the beach, such as a marina, a restaurant, a shop, and a campsite where you can play miniature golf.
Hestehovedet Beach was established in the 1940s as a recreational area for the citizens of Nakskov.
The unique nature
There is a beautiful view of the fjord from the beach, and the area offers many wonderful experiences in Nakskov Fjord Nature Park. The fascinating monument, Dodekalitten, in Ravnsby Hills is also worth a visit when you're in the area.
From Hestehovedet you can go to the island of Kuddeholm by a small bridge. Here, the wild nature contrasts sharply with the tame and beautiful recreational area by the beach.
Outdoor activities
Due to the favourable wind conditions at the beach, this is also an excellent windsurfing spot. From the beach you can take the unique kayak tour to Albuen. For a visit to the small islands in Nakskov Fjord, it is recommended to take a trip with the Post Boat.
Find inspiration for trips and other experiences in the area in the Naturlandet app.
VisitLolland-Falster © 2023