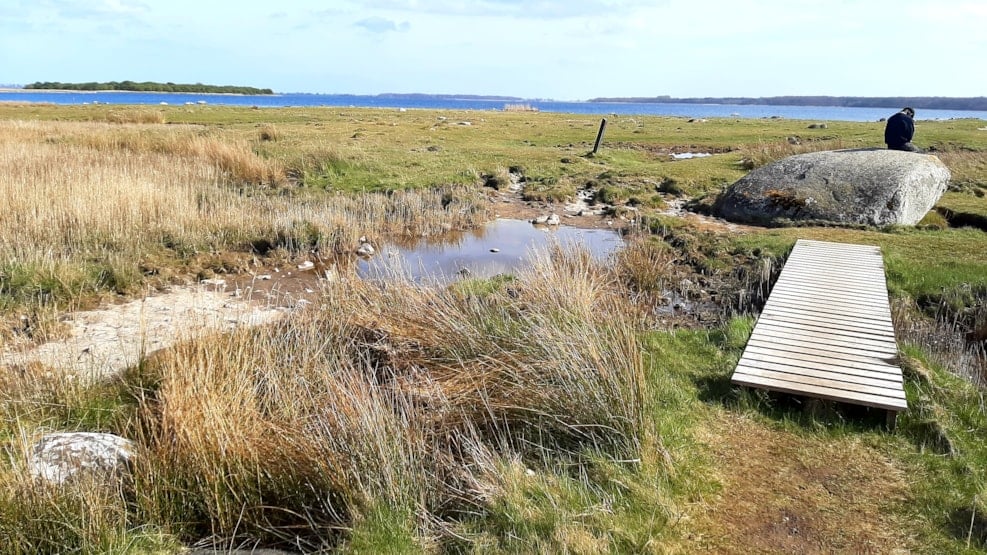 Hiking route: Fuglsang and Skejten - 5 km
Enjoy beautiful landscapes, unique nature and a picturesque manor! Enjoy wandering amongst the old oak trees, cows and rare plants in the nature area Skejten. Visit the wonderful park and garden at the Fuglsang Manor. Don't forget to visit our Naturlandet's INFO-punkt, where you can learn more about the area.
Skejten is a nature area with oak trees, rare plants and an interesting fauna in a moist and wild marshland. The area is protected and has never been cultivated. The oak trees are up to 300 years old.
The name Skejten comes from the Old Norse word "skejt", which means a place where there are horse battles. The vikings made stallions fight against each other and then bet on the outcome.There are information signs on site.
The paths are uneven and often wet and there are primitive bridges over the islands that flow through the area and into Guldborgsund. Rubber boots are a good idea.
Skejten is grassed by cattle in the summer months. Dogs must always be on a leash at Skejten, partly because of the cattle, partly because of the wildlife in the area, not least the many breeding birds.
Follow the route in the Naturlandet Lolland-Falster app, then you will get even more experiences along the way! You will find the route under hiking routes in the category "The best from Naturlandet" in the app. 
VisitLolland-Falster © 2023