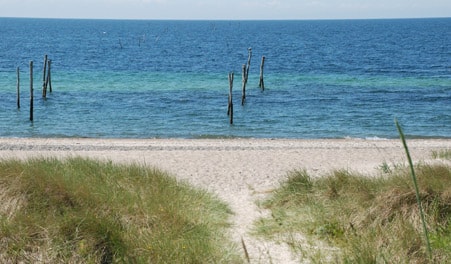 Hummingen Beach
One of the many sandy beaches along the south coast of Lolland where the dike protects against flooding of the inland areas.  A holiday home area is situated behind the dike.  

Car parking facilities, toilets and a convenience store are located in the holiday home area.  There are holiday homes for rent, restaurants and camping sites in the area including facilities for playing amongst others crazy golf.  

There are excellent opportunities along the Lolland coast for numerous outdoor recreational activities to suit all tastes and interests.   As an angler you have the possibility to fish from the coast, a bridge or jetty – sail out in a dinghy or onboard a tour boat.  


From the coast you can catch sea trout and during May garfish.  Remember to purchase a fishing licence when you fish in Denmark.   Fishing licences may be purchased online or in the tourist offices. You will find good breakers, fair winds and ideal sandbanks all along the south coast of Lolland that provide excellent conditions for kite surfing, wave and windsurfing.   

The dikes along the south coast were established towards the end of the 19th century and are maintained today by Lolland Dike Association and Lolland Municipality.  On the bicycle path "The Baltic Sea Route" you can cycle along the dike all the way to Rødby harbour or out to the west by the The Baltic Sea Route where you can continue on the bicycle path "Nakskov Fjord Route" all the way along the fjord into the centre of Nakskov. Dogs should be kept on a leash from 1st of April to 30th September.  

During the bathing season, the beach is cleaned every third week.
VisitLolland-Falster © 2023