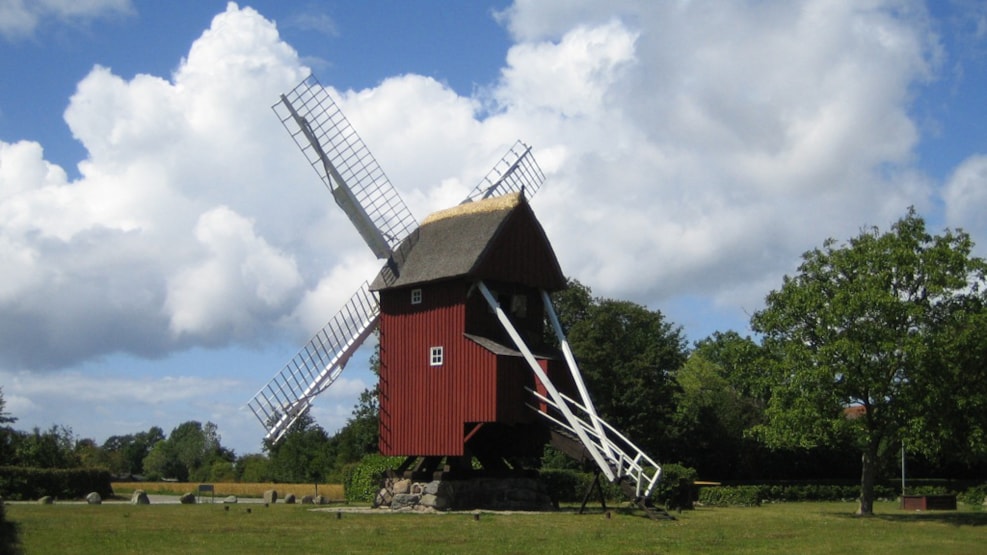 Kappel Post Mill
The post mills are the oldest kind of windmills. In Denmark only 18 post mills are left and some of them are placed in museums. Kappel post Mill is standing on its original place, where it has always been standing. In 1959 it was protected as a historical monument.
Kappel Post Mill has been build about the year of 1730. In 1844 a later miller valled Henrik Christian Hertz extended and renovated the post mill. Besides the old main grinding mill a special minor mill for peeking off was installed. Until 1935 the mill was run for about 200 years.
In 1936 it was undertaken from an independent institution called "Kappel Post Mill and Holy Trinity Spring". The institution was administrated from a savings bank director A. R. Paulsen and a consul G. Wiingaard. In 1956 they ran a restoration.
In 1983 the mill was undertaken from the national association "Friends of The danish Mills". In 1988-1989 the mill was partly restored. The Mill house, the foot and the arms were redone.
In 2003 the mill was untertaken from local efforts, i.e. Kappel Post Mill Guild. In 2003-2004 the mill builder Jens Jørgensen finished the restoration of the mill. During the years some part of the timber in the mill has been exchanged, but some of it is left - among other things the heavy stubble of oak, that supports the mill and on which the mill can be turned around.

The mill has been painted in red (Swedish red) and has tratched roof. When the mill is going to drive wind boards and rag sails are mounted on the arms. By means of a wagon with a capstan, which is fastened on stakes around the mill, the arms are turned around in the wind. On the post mill it is the whole mill body, which turns around the stubble.
There is place enough outside the mill and during the summer you will find about 5 tables, where you are welcome to take a rest with your coffee or your lunch. There is a parking ground at the mill. The mill is usually locked, but it can be open according to an appointment. Normally The Mill Guild takes part in Danish Mill Day, which takes place on the third Sunday in June.
In the summer the mill is open every Tuesday from 14 until 17 p.m. There is a man from the mill guild present, who can tell about the mill.
 
Admission free, but presents are welcome.

The access to the mill is difficult. You can only come up into the mill through a carrow staicase. Handicapped persons would find it difficult.

Close to the mill there has been a holy spring: "Holy Trinity Spring". Today the spring has been filled up, but the former well for the mill house has been maintained. The Mill Guild has led a booklet about the history of the spring print.
VisitLolland-Falster © 2023