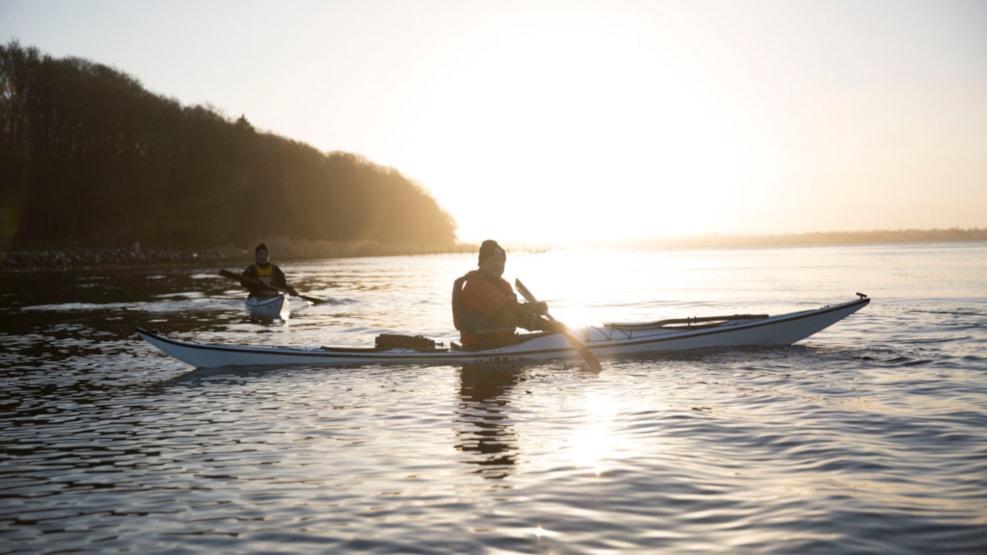 Kayak Trip: Langø tour, 5 - 7 km
TOUR SLOTØ- 6 KM FROM NAKSKOV – 4 KM FROM LANGØ – 3 KM FROM HESTEHOVED – 10 KM FROM ALBUEN BEACH
Did you know, that you can see this route and many other nature experiences in the app "Naturlandet". The app can be downloaded in App Store or Google Play. All information is accessible in English, Danish and German – the app is FOR FREE.
Langø:
Langø is part of Nakskov Fjord, and is known for its cozy harbor environment, where you can buy "the catch of the day" if you bring cash. And what's better than a fresh meal when satisfying the hunger after a 7 km long trip from Hestehoved. The harbor at Langø has good slipway facilities, shelters and a cozy environment from the surrounding fishing village at Langø.
Tour description/experiences:
The trip begins at Hestehoved harbor and goes through Lille-Vejlø, where you can take a pit stop and experience the wild sea eagels swing across the meadow in the middle of the tang. On from Lille-Vejlø and towards Langø harbor, where freshly caught fish is waiting for dinner along with shelter accommodation before the trip goes back to Hestedhoved while enjoying the morning sun from the water.
Practical information:
Nearby toilet facilities are found at Tårs, Albuen, Enehøje, Hestedhoved and Langø. Fresh water is found in the same places, except at Albuen where you will have to bring fresh water yourself.
Information about tents and shelters can be found on the app "Shelter" and shopping options are only possible at Nakskov Fjord Camping and in the city of Nakskov.
Many of the islands and islets in Nakskov Fjord are protected and please pay particular attention to the breeding season where some of the islands and islets are "closed".
Read more about attractions of Nakskov Fjord here and find a map of the area here.
VisitLolland-Falster © 2023