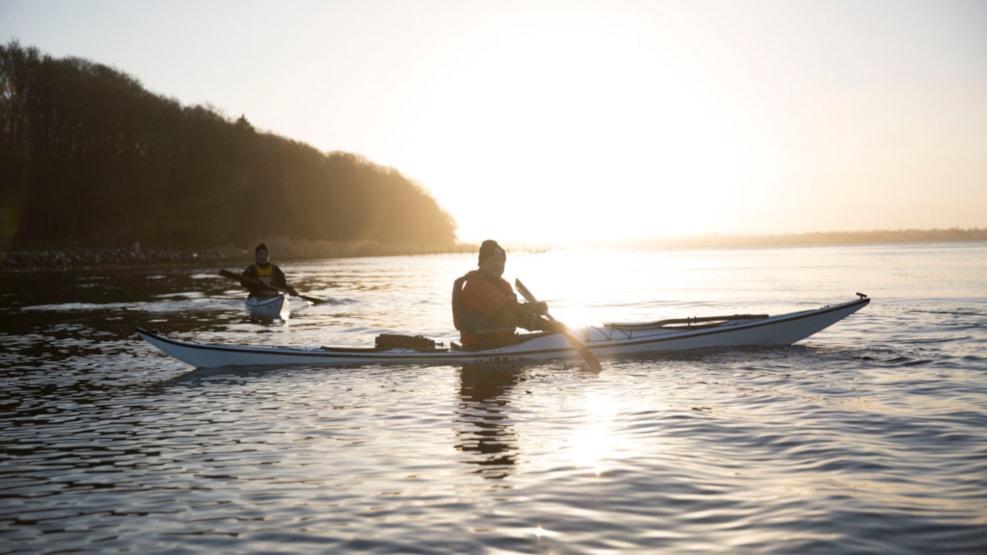 Kayak Trip: Slotø tour, 3 - 10 km
TOUR SLOTØ- 6 KM FROM NAKSKOV – 4 KM FROM LANGØ – 3 KM FROM HESTEHOVED – 10 KM FROM ALBUEN BEACH
Did you know, that you can see this route and many other nature experiences in the app "Naturlandet". The app can be downloaded in App Store or Google Play. All information is accessible in English, Danish and German – the app is FOR FREE.
Slotø: You are allowed to go ashore using the small sandy beach southeast of the bridge. You are only allowed to walk around the ruins. Other traffic on the island is prohibited and overnight camping is not allowed. There are some stones south-east of Slotø, approx 50 meters from the shore. Shallow waters south and north of the island. Please do not go ashore on the west side of the landing bridge as there are often breeding terns on the stone beach below the ruins.
Tour description/experiences:
The privately owned island of Slotø is mostly known for the ruin, Engelsborg, built upon order of King Hans in 1509-10. This castle is special as it is a combination of a shipyard and a castle. It was built here due to the immediate water depth of 8m, which made launching easy. At the same time the navigation channel to Nakskov runs right between Slotø and Vejlø, so the cannons of the castle could protect the entrance to Nakskov, which at the time was one of the country's most important maritime towns.
Practical information:
Nearby toilet facilities are found at Tårs, Albuen, Enehøje, Hestedhoved and Langø. Fresh water is found in the same places, except at Albuen where you will have to bring fresh water yourself.
Information about tents and shelters can be found on the app "Shelter" and shopping options are only possible at Nakskov Fjord Camping and in the city of Nakskov.
Many of the islands and islets in Nakskov Fjord are protected and please pay particular attention to the breeding season where some of the islands and islets are "closed".
Read more about attractions of Nakskov Fjord here and find a map of the area here.
VisitLolland-Falster © 2023