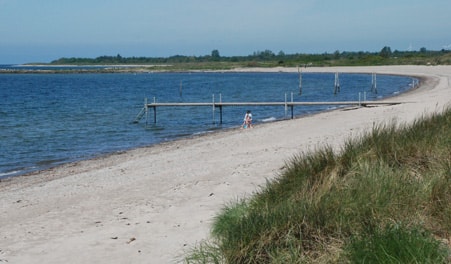 Kramnitze Beach
Beach with access for handicapped and very good possibilities for surfing. 

Kramnitze is a sandy beach in a holiday home area with camping sites, a small harbour  and car parking facilities.  There is a convenience store/kiosk.  There is a bathing jetty and an access ramp to the beach for the handicapped. You will find good breakers, fair winds and ideal sandbanks east of the small yacht with excellent conditions for kite surfing, wave and windsurfing.  

Sandy beach along the south coast of Lolland, where the dike protects against flooding of the inland areas.  

The dikes along the south coast were established after the flood in 1872 and are maintained today by Lolland Dike Association and Lolland Municipality.  Today, the pump station at Kramnitze, which is the largest in Northern Europe, provides drainage for the reclaimed land and can pump 20 cubic metres of water per second out into the Femern Strait.    

There are excellent opportunities along the Lolland coast for numerous outdoor recreational activities to suit all tastes and interests. As an angler you have the possibility to fish from the coast, a bridge or jetty – sail out in a dinghy or onboard a tour boat.  From the coast you can catch sea trout and during May garfish.  Remember to purchase a fishing licence when you fish in Denmark.  Fishing licences can be purchased in the local tourist offices or online.   

The area also contains a wide variety of flora.  Indeed here you will find Denmark's largest growth of Field-cow wheat (Melampyrum arvense) together with other interesting species such as wild celery (Apium graveolens), Rhinanthus serotinus halophilus, Low goosefoot (Chenopodium chenopodioides), mooncarrot (Seseli libanotis) and British yellowhead (Inula britannica).  

On the bicycle path "The Baltic Sea Route" you can cycle along the dike all the way to Rødby harbour or out to the west by the The Baltic Sea Route where you can continue on the bicycle path "Nakskov Fjord Route" all the way along the fjord into the centre of Nakskov. 

Dogs should be kept on a leash from 1st of April to 30th September.  

During the bathing season, the beach is cleaned every third week.  

Garfish Festival in Kramnitze from 21nd to 24th July, where garfish are caught, smoked and eaten on a grand scale.
VisitLolland-Falster © 2023