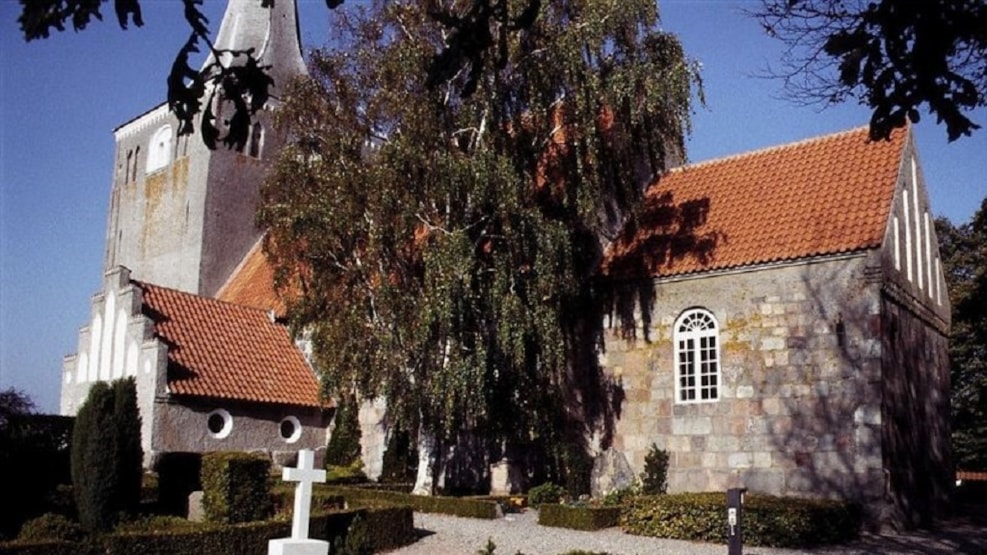 Landet Kirke
Landet Church, which is big and impressive, had served as a seamark. A Romanesque chancel and nave were constructed with granite squared-bricks towards the end of the 1100th century or at the beginning of the 1200th century, whereby the tower was constructed of badly charred bricks and therefore, it is cemented.

A myth disclosed that the church was constructed for gifts, which fishermen and marines contributed themselves to the church.

Around the 1880`s, it was heard that there must be precious articles hidden somewhere in the churchs wall. In the churchs southern wall of the tower room, there is a painting representing Peder and Jesper Grubbe from Aalstrup and their wives. Their tombstones were brought up on the northern wall of the church, which was originally on the churchs floor and was in 1924 removed and raised up. There is a newel stair up to the bell-frame. It is only the downstairs of the church, which is being utilised, and the upper part of the storey is closed. Access to the bell-frame is through tree- stairs. The altarpiece is the so-called catechism table from 1582. The pulpit is dating from 1610. There is a monstrance shrine from the Catholic time, made of a tree stem and iron bottom. The church is open when the gravedigger is on duty, normally every day until noon except on Fridays.
VisitLolland-Falster © 2023