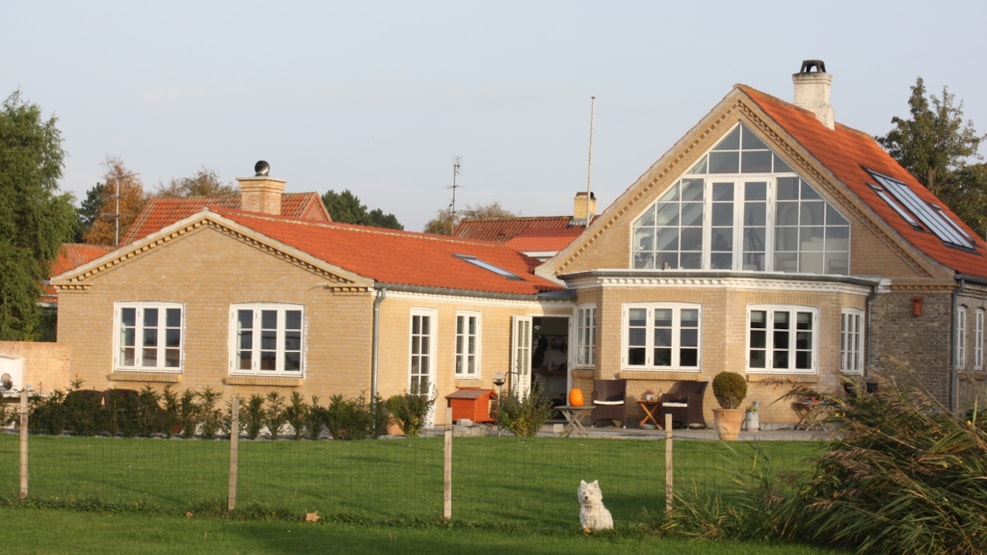 Langø accommodation
Langø - Stay in the scenic countryside of Lolland, rent a beautiful room! 
Langø is an idyllic and charming seaport in the heart of Nakskov Inlet. The house is located 50 meters from the port and has a first class view of the bay and Langelandsbæltet. 

During the summer months you are able to find a small local kiosk, grocer's and restaurant by  the port from where you are also able to go bathing, kayaking or buying freshly caught fish etc. Furthermore, you will also be able to find the local beach close by.  
The popular cyckle trail on the seawall passes close by the house. It is a part of the historic Munkerute that goes from Glückstadt in Germany Roskilde in Denmark. 

It is also possible to go sailing on the Inlet fx with the local post boat 'Vesta' or to go visit Knuthenborg Safaripark or Lalandia. 
The double room is bright and spacious with the possibility of an extra bed. You will share bathroom with your hosts, and you will be able to shower both indoors and outside. 

The room has a fireplace, TV, DVD and internet connection. 
The house has a small patio and room has a terrace with a scenic view of Langø Port and Nakskov Inlet. 

During weekends you are able to buy breakfast for 50 kroner per person. 
Overnight accommodation 450 kroner per night including bed linen and towels. 
Miminum stay: 2 nights.

Arrival and  Departure on request.
VisitLolland-Falster © 2023