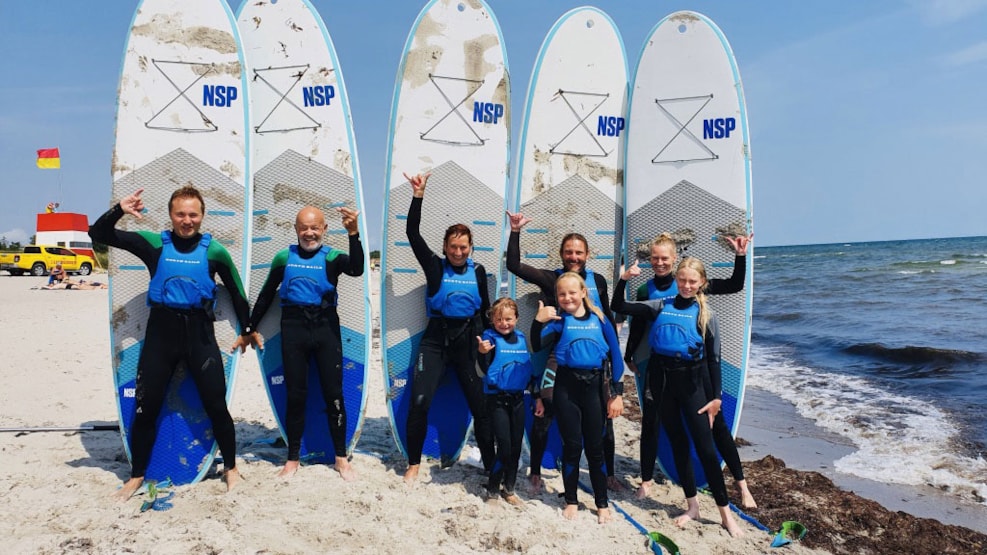 Mærk Outdoor
Loads of SUP (Stand Up Paddle) options ...
Rent a SUP board and get out on the waves on your own.
Book an introductory SUP course and learn from an instructor.
Book a tour guide for a SUP SAFARI experience in some of Denmark's most beautiful natural surroundings along the coasts of Lolland-Falster.
SUP Intro-course
Everyone can take part in a SUP intro-course and have a fun, educational and active experience on the water. Learn the most important techniques to get up and paddling on a SUP board safely and correctly.
We promise this summer's best experience: a day filled with fun, activity and togetherness on Marielyst beach. Trained instructors will show you the general use and handling of the SUP board and equipment. You will be provided with an introduction to paddle and balance techniques as well as water and weather conditions, so you can feel more comfortable on the SUP board and in the water.
SUP Safari
Head out for an adventure with Mærk's tour guides and experience the stunning nature up close while you paddle on a SUP board along the coasts of Lolland-Falster.
Enjoy a completely unique experience for the whole family, or a few quiet hours with your partner, as you slowly glide past beautiful shores with plenty time to soak up impressions along the way. On your outing, you might be fortunate enough to see harbour porpoises, seals or Denmark's largest birds of prey, white-tailed eagles. There will also be time to enjoy fun and challenging SUP activities where you're guaranteed to end up taking a dip! A favourite outing is the Guldborgsund Nature Area, which stretches along the narrow strait between Lolland and Falster from the Baltic Sea in the east to Smålandsfarvandet in the west. The area offers a rich and varied landscape with wide tidal meadows, forests and cultivated areas.
The strait and the small islands, some of which are reserved as bird sanctuaries, are favourite breeding grounds for large flocks of birds. And the surrounding areas are home to abundant wildlife.
Courses and tours are conducted by trained instructors and tour guides and place a strong emphasis on safety and security.
The SUP school is open year-round.
VisitLolland-Falster © 2023