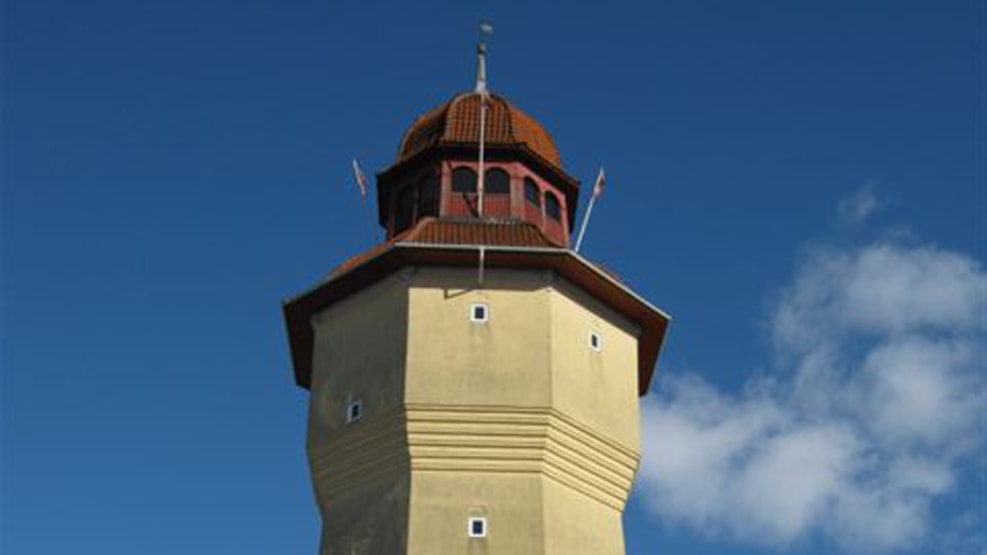 Nykøbing F. Watertower
The water tower was build in 1908 and was Denmark´s first reinforced concrete building of that size. The water tower is 43 meters high, has 7 floors and 147 steps. It´s viewing platform is at 32 meters high.
In 2008 the board of Multicentersyd took over the water tower, and has been responsible for a total modernization of the tower. Nowadays the water tower is a part of the Multicentersyd Production School.
You can go up the water tower and look at our varying exhibitions of paintings and other art forms.
You can also go further up the tower and see the lovely view across Nykøbing F.
We also have a wonderful cafe where you have the opportunity to sit and enjoy a nice cup of freshly brewed coffee and a piece of freshly baked cake, while the children can develop their creative abilities in our little drawing corner.
We also have other options, both cold and hot drinks. As an alternative for our cakes, we also serve homemade sandwiches and hot quiches.
We also host cultural events such as: author nights, poetry readings, art happenings, small concerts and lectures.
You are always very welcome to attend our events. You can find more information about us and updates on the events on Facebook on our page "café vandtårnet" and on our website "www.vandtaarnet.multicentersyd.dk".
We look forward to welcoming you in our beautiful and cozy water tower
VisitLolland-Falster © 2023