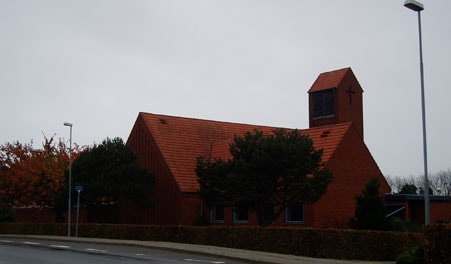 Rødbyhavn Church
Rødbyhavn Church is a modern church made of red bricks. It was consecrated in 1966, but it lasted until 1972, before the parish became an independent parish. Until then Rødbyhavn Parish was served by a curate, who belonged to Rødby Parish. 

The crucifix above the altar is made by sculptor Eric Bischoff from Nysted. The crucifix is still an inexhaustible topic of discussion to the visitors, because it – in its capacity as the only peace of real art in the room - appears unconventional and strongly affecting. 

The pulpit and the altar desk have been donated by the Memorial Fund of Kaj Munk. 

The font made of granite has been donated by Maribo Cathedral. 

An unconventional seven-branched candlestick stays on the altar. It symbolizes the church's relationship with the sea. The ship is a model of the schooner "Syltholm", which was built on the island Thurø in 1905. 

The organ was installed in 1976. Prior to that time there was a small harmonium in order to accompany the hymn singing. The organ was built by the firm Bruno Christensen & Sons in the village Terkelsbøl in South Jutland. The organ has 12 parts, 2 manuals and one pedal. 

At larger church ceremonies, such as Christmas and confirmations, the parish hall can become part of the nave by opening the folding doors. A painting by Mr. Allan Skudsbøl is hanging in the nave. It is a painting of the 10 bridesmaids, and it was purchased in 2000.    
VisitLolland-Falster © 2023