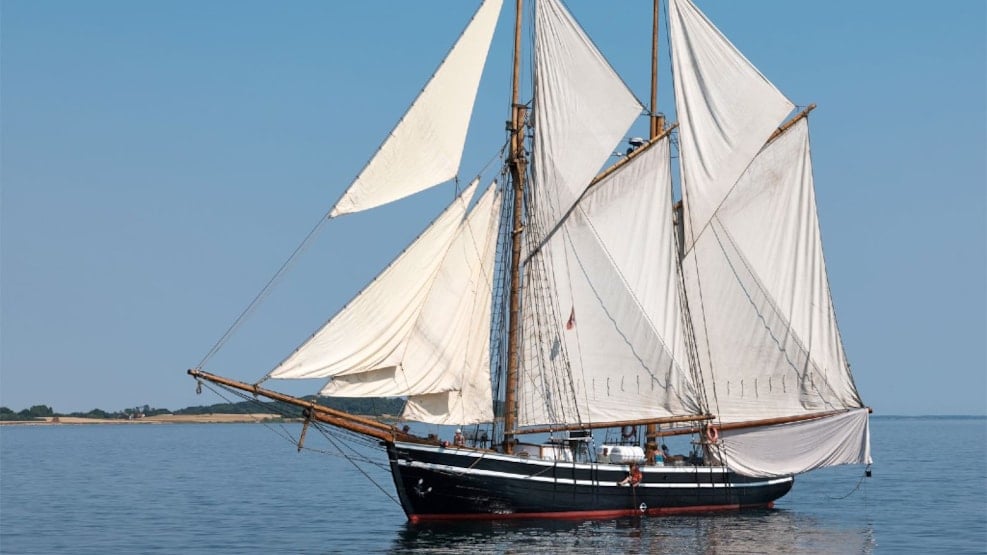 The Schooner Johanne
Welcome aboard the historic schooner Johanne. Come to 'Open Ship' for a short sail, or experience life at sea on a longer trip around Danish waters or Northern Europe.
Come aboard the Schooner Johanne - one of Denmark's oldest and best preserved schooners. You can go on shorter sailing trips and help set sail for a taste of life at sea, or you can spend your holiday at sea as the schooner goes on longer trips in Denmark and Northern Europe.
The two-masted schooner was built in 1895 at Øxenbjerg Shipyard in Svendborg. The ship now has its home port in Nakskov, but sails around the whole country. When the schooner is docked at Danish ports, there is often 'Open Ship', where you can come on board and meet skipper Veronia.

See all planned trips, 'Open Ships' and cruises on the Schooner Johanne's Facebook page.
You don't need any knowledge of sailing to come along on a trip - and those who want to can help set the sails and steer the ship.
Private visits and company events
If you want to have a party or celebrate a birthday on board, private and individual visits and trips can be organised. If you're looking to strengthen your team's community and team spirit, a trip on the schooner Johanne is a fantastic option. There are lots of tasks that bring the team and team spirit into focus aboard an old wooden ship. The ship can also be used as a meeting facility.
Contact Nakskov Tourist Bureau for a more detailed discussion about options and prices - your imagination's the only limit.
VisitLolland-Falster © 2023