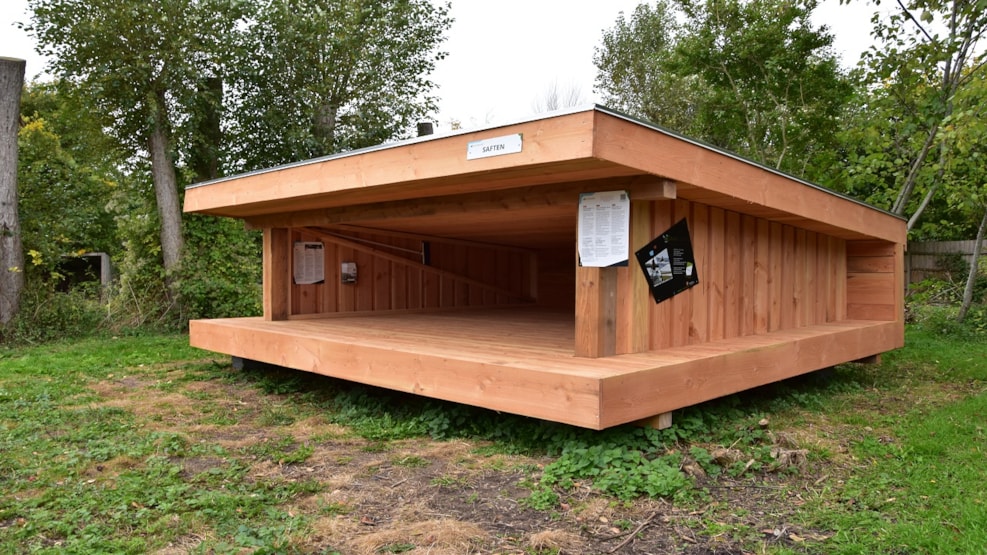 Shelter site - Horslunde
Behind the old culture house Saften, in the cozy and viable village Horslunde on northwest Lolland, you will find this fine shelter and tent site. Horslunde is known for being a pioneer in green energy and sustainability.
The shelter site consists of a shelter with room for 5 people. It is also possible to spend the night in a tent. Max. 10 people. in tents.
There is a campfire site available, and guests have access to indoors toilet and shower facilities at Saften. The village has its own bakery, and there is a Dagli' Brugsen at the other end of the village if you need to shop.
Have some fresh Danishes for breakfast! The local bakery, Horslunde Bageri & café (Make sure to check opening hours!), is located a few hundred meters from the site. If you're not tempted by the scent of freshly baked goods, then you can also visit the local Horslunde Pizzahouse. Public transport is available; der busses towards Nakskov and Kragenæs depart directly from Saften, also known as Horslunde Busterminal. Visit Rejseplanen for schedule.
Read more about Horslunde shelter site at Book en Shelter. See also a full overview of Naturlandet Lolland-Falster's many shelter sites here.
Get access to more exciting outdoor experiences in Naturlandets app.
VisitLolland-Falster © 2023