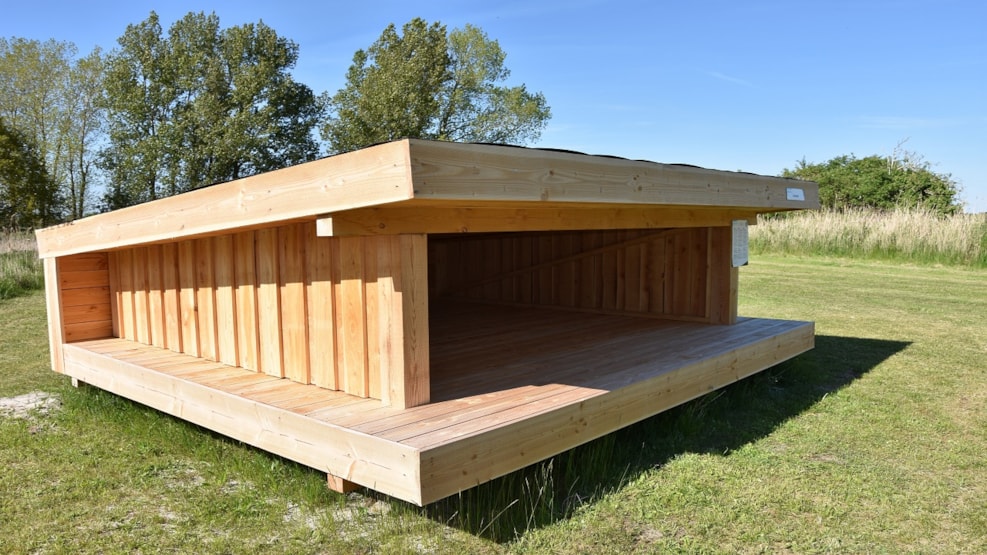 Shelter site - Hummingen Camping
On the south coast of Lolland, 10 minutes walk from the Baltic Sea, you will find the cozy and family-friendly Hummingen Camping. Stay in shelters on the site with luxury facilities such as its own heated swimming pool, which is freely available to you and all the site's guests.
The shelter site consists of a total of 4 shelters, each of which has spaces for 3-5 overnight guests. Accommodation in tents must be booked directly on the campsite's website.
Shelter guests can use all the facilities, such as showers, toilets, washing machines, playground, bouncy castle and swimming pool. Please note that there may be a small fee for some facilities, read more and see price list here.
The restaurants Den gamle Digegaard and Strandgården are located in Hummingen, so there is a good chance to find a delicious dinner, even if you are not the great master chef at the campfire. Den Gamle Digegaard offers a 10% discount (excluding drinks) to shelter guests at Hummingen Camping upon presentation of a booking receipt.
Read more about Hummingen Camping shelter site at Book en Shelter. See also a full overview of Naturlandet Lolland-Falster's many shelter sites here.
Get access to more exciting outdoor experiences in Naturlandet's app.
VisitLolland-Falster © 2023