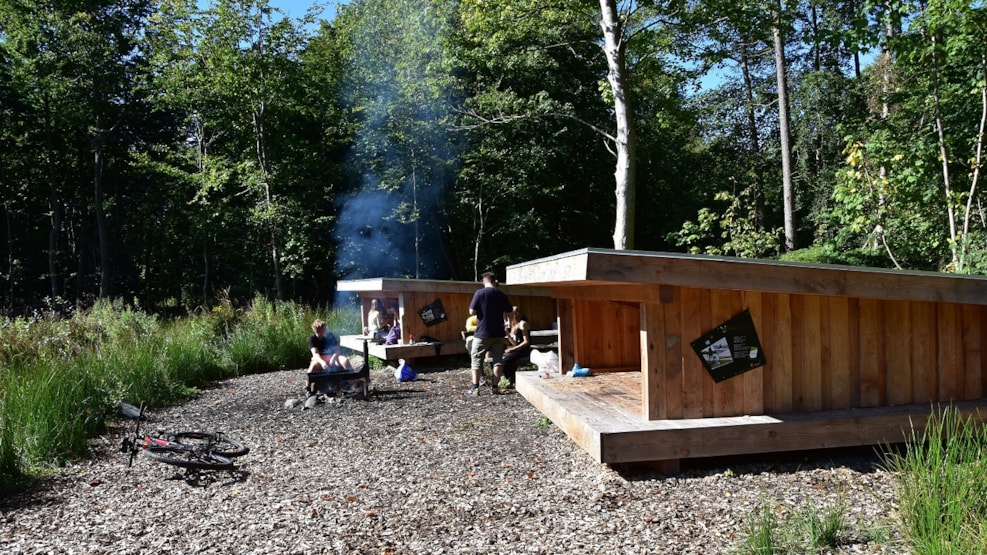 Shelter site - Mysseskoven
This nice shelter site is located in the middle of the a cozy little forest at the edge of Nykøbing Falster, next to the sweet heart-shaped lake. There are large exercising and playground facilities, a nice handicap toilet, lunch house and nature room directly adjacent to the site, as well as several campfire sites to choose from. In other words, you can get the best of both worlds at this shelter site, where you can enjoy the tranquility of the forest and the beautiful Guldborg Sund strait close by, while you get all the benefits of the city. The shelter site is part of our large adventure route, Naturlandet Rundt.
This site consists of 2 shelters, it is not permitted to set up tents in the area.
Even though the shelter site feels nicely isolated in the forest, it is very close to the heart of the city. The local Netto is located about 800 meters from the shelters, together with a pharmacy. Thus you're able to restock on mosquito spray, orange juice or whatever you need.
Mysseskoven is a collaborative project made by landowner Thomas Højgaard, Guldborgsund Municipality and local citizens. Amongst other things, Ældre Sagen has helped with the establishment of the exercising facilities, while Lindeskovskolen's students have invented the lake's heart shape and established the campfire sites. Read more about the project on Guldborgsund's website.
Read more about Mysseskoven's shelter site on Book en Shelter.
Get access to exciting outdoors adventures on the Naturlandet app.
VisitLolland-Falster © 2023