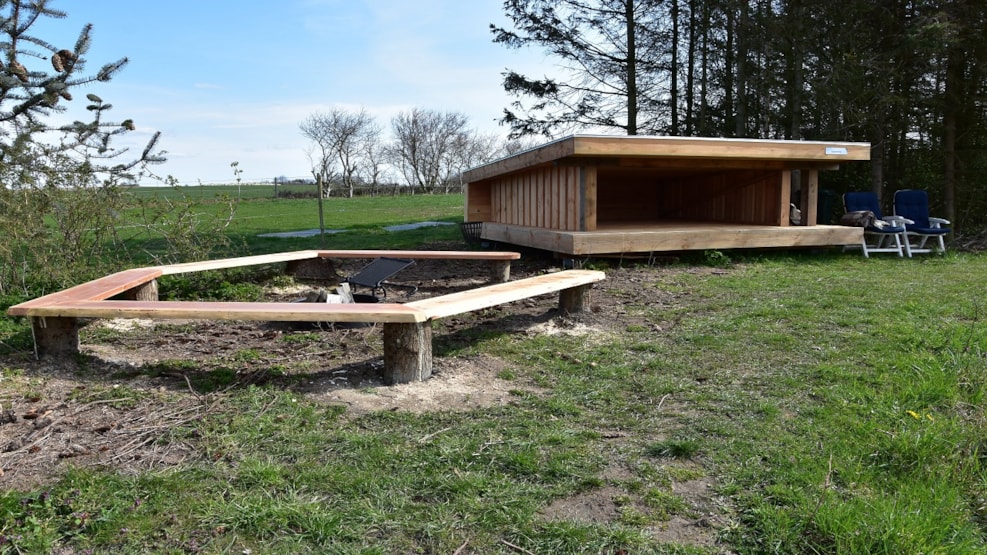 Shelter site - Vester Kippinge
In this idyllic shelter site you can spend the night in a tent, shelter or caravan. The diverse site is pleasantly located in the corner of a private garden. 
This versatile site has a shelter, a caravan and a tent site where you can spend the night. There is room for 4 persons in the shelter.
There is a nice little lake with koi carps and a direct view of horse paddocks, fields and the coastline. You can bring your horse, and there are great routes in the area to explore. The site has a campfire site with benches, saddle hangers, table/bench set, garden chairs with cushions, a bike stand with charging access, drinking water and access to a fine guest toilet with the option of showering for a fee.
The nearby beach is nicely sandy and only 600 metres west of the site, perfect for horse riding or swimming. If you want to swim, be prepared to walk a long way out as the water is shallow. It's a great place to go ashore with a kayak or canoe.
Read more about Vester Kippinge shelter site at Book en Shelter. See also a full overview of Naturlandet Lolland-Falster's many shelter sites here.
Get access to more exciting outdoor experiences in Naturlandets app
VisitLolland-Falster © 2023