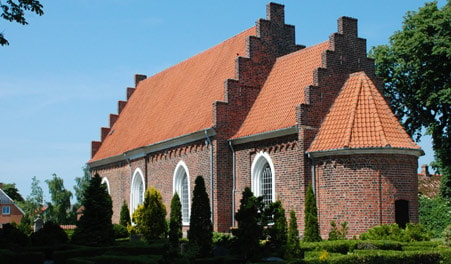 Tillitse Kirke
The church is built in 1200-1250; originally in Romanesque style with apse, chancel and nave.
In the year 1625 the then owner of the manor Rudbjerggård, Joachim von Barnewitz, built a west-facing burial vault in extension to the church. At a large restoration in 1856 the burial vault was added to the church together with a new porch, which replaced the old south-facing porch.

The bell frame was torn down and the bells were placed above the arches, which had replaced the original board ceiling. The existing very large Gothic windows are also thought to be traced back to the restoration of 1856.

The altarpiece dates from 1642 and is carved by Jørgen Ringnis.

The pulpit dates from 1608. It has five squares with carvings of the Christ and the four evangelists.

The Romanesque font is made of granite. The silver-plated baptismal dish dates from 1857; its relief shows the Baptism of Christ.

The church is open when the sexton is present.