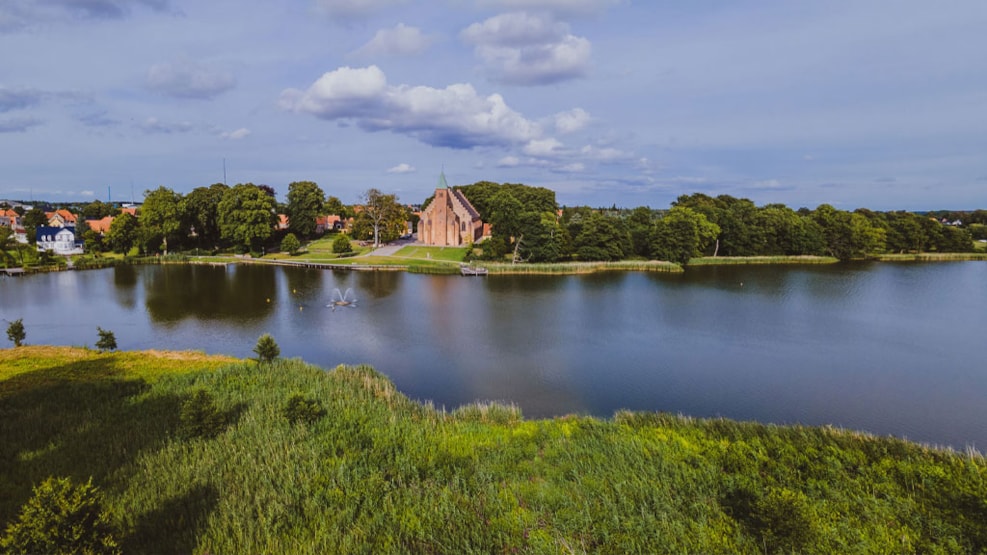 Maribo Lakes Nature Park
An exceptional nature reserve where you'll find Denmark's most island-dotted lakes, unique birdlife, beautiful manorial landscapes and fascinating cultural history.
The Maribo Lakes Nature Park is a collective name for the Søndersø, Røgbølle Sø, Hejrede Sø and Nørresø lakes, as well as the surrounding hinterland.
The four lakes are situated in a magnificent manorial landscape and surrounded by fields, meadows, bogs and woodlands, and there is opportunity for great experiences for bird and nature enthusiasts. The nature park also contains many ancient monuments and has a rich cultural history.
Lake and land
The Maribo Lakes make up one of Denmark's largest freshwater systems with a total of 1,140 hectares of water surface.
The largest of the lakes is the 852-hectare Søndersø, which consists of three basins and is Denmark's most island-dotted lake.
The lakes are situated in an area of large, natural depressions formed when the enormous blocks of ice left by glaciers during the last ice age melted. The surrounding landscape is therefore quite hilly compared to the rest of Lolland, with elevations reaching above 20 metres.
The bird kingdom
The area is known for its richly varied flora and fauna. The birdlife in particular is unique and therefore of international importance.
Experience the impressive white-tailed eagles all year round and the ospreys between April and September.
The area also offers the chance to see greylag geese, the common pochard and all four Danish species of grebe.
Discovering the Nature Park
The many routes around the lakes invite you to explore nature both on land and by water – perfect by bike, by foot, in a kayak or on the Anemonen tour boat, which sails from May to September.
Find the area's routes in the Naturlandet app here.
Find inspiration for more unique nature experiences on the South Sea islands here.
VisitLolland-Falster © 2023