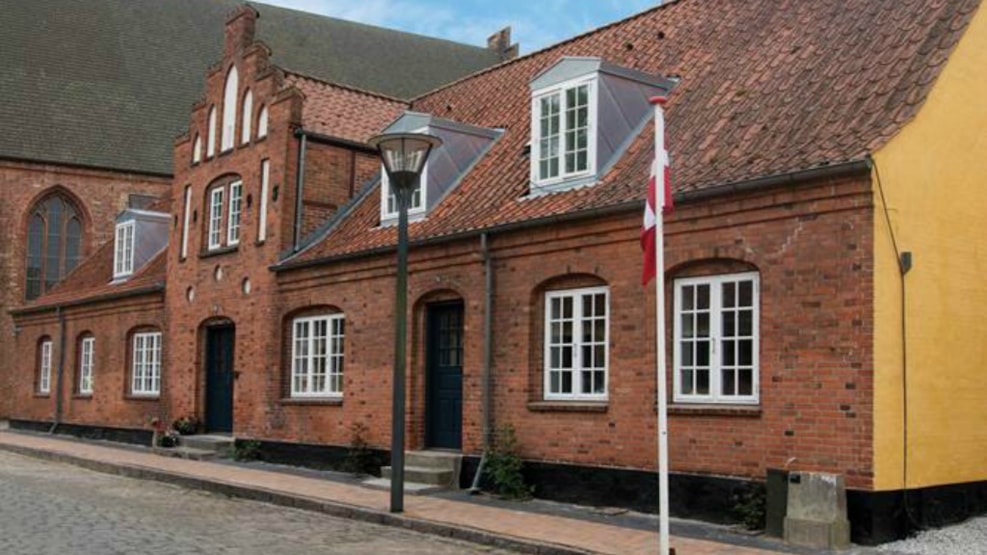 Pilgrims' House
About the Pilgrims' House
Maribo Pilgrims'House is the closest neighbour to the Cathedral and the 600 year old convent ruins in Maribo on Lolland. We aim to welcome and guide visitors. The house is administered by the State Church and run on an ecumenical foundation with co-operation between the Bridgettine Convent, the Cathedral and other local agencies.
The house includes a café, a hostel, a shop, information, opportunities for conversation, silence, etc. A peaceful "space" in the midst of life – open to all. The Pilgrims' House is a connecting point for several hiking routes that link beautiful nature places, monasteries, churches and manors.
Café
We sell the "pilgrim's plate", light dishes, coffee & cake and cold drinks in the café. The terrace and the house directly overlook the lake.
Hostel
The hostel offers peace and quiet, rooms with lovely beds, a private kitchen and a silent room. The facilities can be used by anyone. Accommodation for one night costs 300 kr. per person, including bedding.
Hiking
Pilgrim walking is becoming increasingly popular and two modern pilgrim routes cross each other in Maribo. The Danish Monastery Route and the Santiago Route are each designed to lead visitors through the Danish Church and cultural landscapes while creating connections to other pilgrim routes in Europe.
It is free for everyone to walk the pilgrim routes. Becoming renewed by travel is an ancient experience. Through pilgrim walking, perspective is broadened so that following a path becomes not just an outer journey, but an inner one as well. Experiencing as much as possible is not the aim of a pilgrim journey. Rather it is about taking time to rest, to contemplate, to reflect on one's self and to be present.
VisitLolland-Falster © 2023