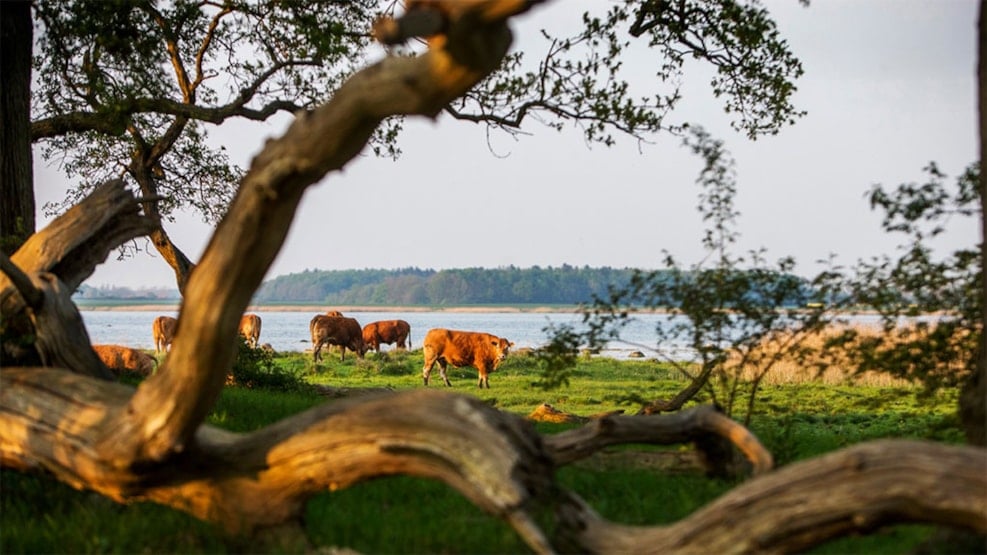 Skejten Natural Landscape
Take a hike over Skejten and discover a wild, never-cultivated landscape formed under the heavy blanket of the Ice Age.
Wild and untouched
Skejten is a flat and rugged natural area stretching from Fuglsang Park to Guldborgsund. The meadow has never been cultivated and therefore offers the opportunity to experience nature left to its own devices.
Discover the rare animal and plant species that inhabit Skejten and marvel at the giant rocks left behind by the receding ice sheet more than 10,000 years ago. The area's renowned thick, old oak trees lend the landscape a balance of lightness and heaviness.
Lace up your boots
Skejten's varied landscape is well suited to hiking, and here you can experience a unique natural habitat unfolding before your eyes. Hikes (see map here) of different lengths and difficulty levels are to be found everywhere. Flanking the wild nature are the splendid, well-pruned gardens of Fuglsang Manor. You can easily extend your hike though Fuglsang Garden with its tranquil forest lakes and surrounding moat.
To experience Skejten from indoors, visit the Fuglsang Art Museum. The museum is known for its beautiful observation room, where you can enjoy a magnificent peaceful view over Skejten. The striking interplay between heaven and earth leaves a lasting impression.
VisitLolland-Falster © 2023